French president's plan to write off homework draws criticism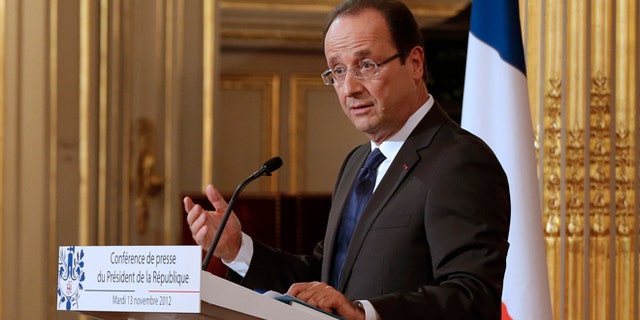 The latest revolt against France's aristocracy is all about ... homework.
President Francois Hollande, the socialist leader swept into office in May, has targeted homework as bestowing an unfair advantage on the rich, and his solution is to eliminate it for all elementary and junior high school students. But the plan is drawing criticism from the very folks it was supposed to help – poor people. And education experts aren't so keen on it either, saying underprivileged kids need the structure and purpose that homework provides.
[pullquote]
"Poor people want homework because they know that school is very important, and the only chance — the only possibility — they have to give their children a better life is if their children succeed at school," Emmanuel Davidenkoff, editor-in-chief of L'Etudiant, a magazine and website devoted to French school and education, told NPR.
Hollande reasons that homework favors wealthy families because they are more likely to have the time and ability to support and supervise their children's after-school efforts. The unorthodox plan is part of a bigger effort aimed at making primary and secondary school more enjoyable for children and comes as the country falls behind other industrialized nations – including the U.S. – in reading and science.
"Education is priority," Hollande said in an October speech at Paris's Sorbonne University. "An education program is, by definition, a societal program. Work should be done at school, rather than at home."
Students in France attend classes four days a week, but the school day is long and instruction is typically rote. French school is a grind, according to Peter Gumbel, author of a scathing book on the education system in France.
"There's an enormous amount of pressure, and it's no fun whatsoever," Gumbel said.
But simply surrendering the idea of homework may not be a good idea, according to some experts. Guy Winch, a psychologist who has written about homework in the American system recently wrote in Psychology Today that educators must strike a balance to ensure healthy childhood development.
"One easy guideline to keep in mind is that children should be assigned no more than 10 minutes a day of homework per grade level," Winch wrote. "A sixth grader should be doing no more than an hour of homework a day, and a senior in high school should have no more than two hours a day of homework."
Duke University Professor Harris Cooper, an expert on child development, told FoxNews.com Hollande's plan is more likely to hurt poor kids than help them.
"Disadvantaged kids have fewer resources for learning outside school, so removing homework might actually widen the achievement gap, not narrow it," said Cooper, chairman of the school's Department of Psychology and Neuroscience. "There are much better ways to close the achievement gap."