French presidential election: Leftist protesters grow violent after results come in
Police detained 29 people in Paris on Sunday after "anti-fascist" demonstrators became violent – hurling glass bottles and firecrackers and setting cars ablaze.
FRENCH PRESIDENTIAL ELECTION: LE PEN, MACRON WIN FIRST ROUND TO ADVANCE TO RUNOFF
Six officers and three demonstrators were injured during the protests at the Place de la Bastille. Several businesses sustained damage, Agence-France Presse reported. At least three people were arrested.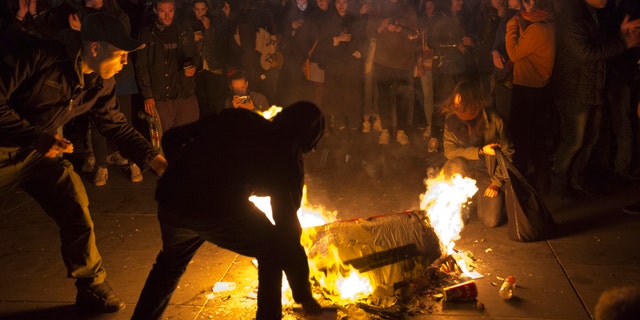 Many of the left-wing protesters said they were angry at the first-round results of the presidential election in which centrist Emmanuel Macron and far-right leader Marine Le Pen emerged as the two top vote getters.
FRENCH ELECTION: CAN LE PEN FINISH THE JOB?
"We have come here to protest against the pantomime of this election," a protester told AFP.
After the results came in, protesters who gathered at the square waved red flags and sang "No Marine and No Macron!" among other chants, The Telegraph reported. Nearby, about 300 peaceful demonstrators gathered at Place de la Republique to condemn the election results. Several danced around bonfires.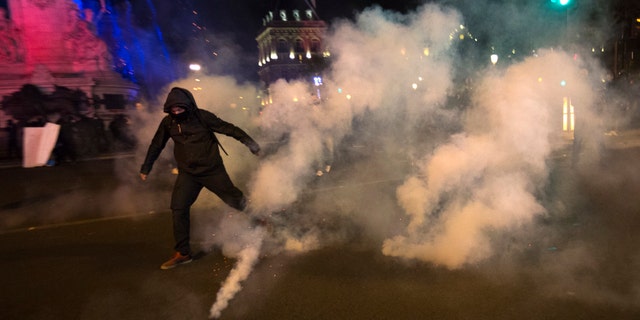 Macron and Le Pen will both square off in a runoff scheduled for May 7. On Monday, President Francois Hollande of the Socialist party urged voters to back Macron.
Le Pen, the leader of the anti-immigrant, anti-Islam National Front party, has accused her rival of being "weak" in the fight against Islamic terrorism. She has pledged to "put back France in order."
A senior French Muslim leader has called on the country's nearly 5 million Muslims to "vote massively" to make Macron president.
The Associated Press contributed to this report.