French president Francois Hollande reportedly picks actress over first lady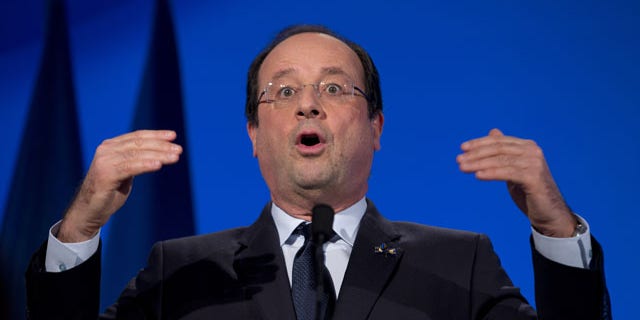 NEWYou can now listen to Fox News articles!
French President Francois Hollande is reportedly in negotiations to end his nine-year relationship with first lady Valerie Trierweiler after reports surfaced earlier this month that Hollande was undertaking an affair with an actress.
Sources inside the Elysee Palace told Britain's Daily Telegraph that Hollande is "in negotiations, including legal ones" to end the relationship. Elysee Palace is France's equivalent of the White House.
Elysée sources told the Telegraph that while Miss Trierweiler was keen on remaining a couple, the president's mind is made up and that he was "in negotiations, including legal ones" to end the relationship.
On Saturday, Trierweiler was released from the Paris hospital where she had been staying since news of Hollande's affair with actress Julie Gayet was broken by the magazine Closer 10 days ago. At a press conference last week, Hollande promised to clarify who his official companion would be before his scheduled trip to the United States February 11. Trierweiler had been scheduled to accompany him on the trip before the scandal broke.
Having defeated incumbent Nicolas Sarkozy in the presidential election of 2012, Hollande has struggled with low poll numbers, primarily due to France's underperforming economy. News of his personal indiscretions, which included images of Hollande paying visits to Gayet's flat on a scooter, have been greeted with a shrug by most French citizens. However, some, including Sarkozy, have reportedly mocked the 59-year-old's escapades as ridiculous and undignified.
Hollande, who has four children from a previous relationship with fellow Socialist politician Segolene Royal, has reportedly been advised to be a "bachelor president" while the public digests the news of the affair.
"If there must be a split, it must be dignified and elegant regarding Valerie Trierweiler," one of Hollande's advisers reportedly told French newspaper Le Figaro Monday. "And above all, Julie Gayet mustn't instantly move into the Elysee."
Other news outlets were less ambiguous, with the Sunday newspaper Journal du Dimanche citing Elysee sources in reporting that the couple's separation was "inevitable."
Click for more from the Daily Telegraph