French police officer killed in shooting on edge of Paris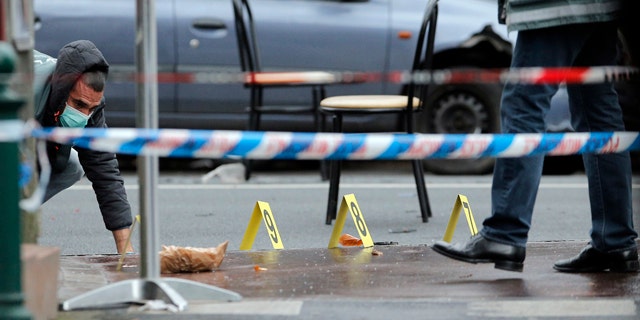 A female police officer who was shot in a suburb on the southern edge of Paris early Thursday has died of her injuries in what French authorities are reportedly treating as a terrorist attack.
Emmanuel Cravello of the Alliance police union confirmed the officer's death to the Associated Press. Her identity was not immediately released.
The shooting comes one day after two masked Islamist gunmen killed 12 people, including two police officers, at the central Paris offices of the satirical weekly Charlie Hebdo. However, authorities said it was too early to tell whether the two incidents were linked.
Hours after the shooting, Sky News reported that armed police were on the scene and appeared to be preparing for an operation.
French Interior minister Bernard Cazeneuve said that the officer had stopped to investigate a traffic accident in the suburb of Montrouge when gunfire rang out. Cazeneuve said that a street sweeper was also wounded, and added that the gunman was still at large and cautioned against jumping to any conclusions about the attack. Sky News reported that the gunman had been wearing a bulletproof vest.
"There was an officer in front of a white car and a man running away who shot," witness Ahmed Sassi, who saw the shooting from his home nearby, told the Associated Press.
He said the shooter wore dark clothes but no mask. "It didn't look like a big gun because he held it with one hand," Sassi said.
News of the shooting forced Cazeneuve to abandon a top-level meeting called by French President Francois Hollande after just 10 minutes to rush to the scene.
Thursday has been declared a national day of mourning in France, with a moment of silence to be observed across the country at noon local time (6 a.m. Eastern). Following the Charlie Hebdo attack, France was placed on its highest alert level.
The Associated Press contributed to this report.