French hand over base in Afghanistan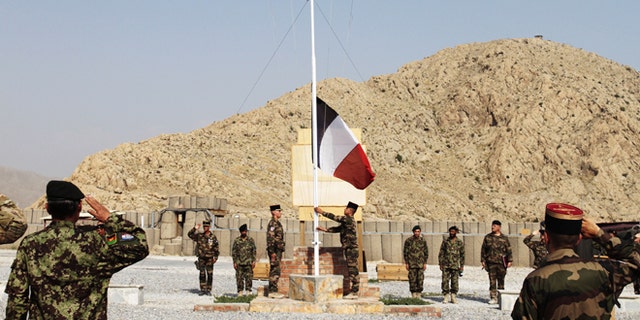 KABUL, Afghanistan – French troops handed over one of their bases near Kabul to Afghan soldiers on Tuesday as part of the transition to Afghan control over security and the pullout of 2,000 French combat soldiers by year's end.
French President Francois Hollande has pledged that the country's 2,000 combat troops in Afghanistan will return home by the end of the year, but that about 1,400 French soldiers will stay to help with training and logistics.
Hollande has said that, after more than a decade in Afghanistan, French combat troops had carried out their mission and it was time for them to leave in an early withdrawal coordinated with the United States and other allies. That decision put France on a fast-track exit timetable that sparked consternation among some members of the U.S.-led NATO military coalition, which is not ending its combat mission until the end of 2014.
The coalition has started handing over security control to Afghan army and police in areas home to 75 percent of the population, with a goal of putting them in the lead for all the country by mid-2013. NATO and other foreign forces would then be in a support role for Afghan forces that will number 352,000 later this year.
The United States pulled out 10,000 American troops last year and is withdrawing another 23,000 by the end of September. That will leave an estimated 68,000 U.S. troops and another roughly 40,000 non-U.S. NATO forces in the country.
France currently has about 3,400 troops in Afghanistan.
Under Hollande's plan, about 1,400 troops will stay behind to help send military equipment including about 900 armored vehicles and 1,400 containers back to France, and others would help train the Afghan army and police. He has not said how long the 1,400 would stay, but said France would not have any more combat forces in Afghanistan after Dec. 31, 2012.
During a handover ceremony, the French flag was lowered and the Afghan one was hoisted over the forward operating base in the restive Surobi district -- about 50 kilometers (30 miles) from central Kabul. Surobi is a mountainous district that borders other eastern provinces, including some on the Pakistan border, making it vulnerable to insurgents moving across the border into Afghanistan.
"In the past, security was not good, but right now the security situation has improved and that was the result of a good cooperation and coordination between Afghan and French troops," said Hazrat Mohammad Haqbin, chief of Surobi district. "Of course, like in many other areas in Afghanistan, the enemy is trying to disrupt security by planting roadside bombs and conducting ambushes, but they cannot battle our security forces face-to-face."
There were about 600 French troops at the base in Surobi. About 300 were sent to the capital and will return to France by the end of August. Another 200 will make up a quick-reaction force to support Afghan military operations in Surobi. The remaining 100 will help support a combat outpost, also in Surobi.