French, German leaders head to Ukraine with new peace initiative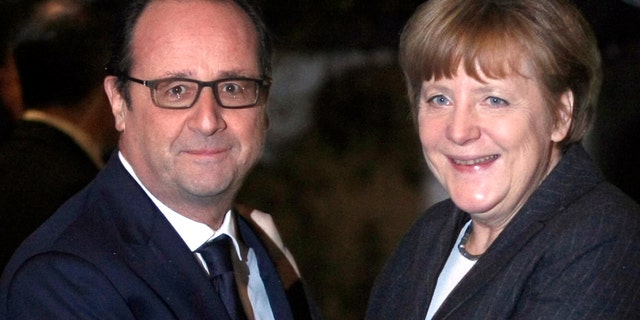 The leaders of France and Germany were carrying a new peace initiative to the Ukrainian and Russian capitals Thursday, amid a flurry of high-level diplomacy to end what French President Francois Hollande called a war on Europe's edge.
Hollande said he and German Chancellor Angela Merkel would travel to Kiev on Thursday and then to Moscow the following day, with a proposal "based on the territorial integrity of Ukraine." In a sign of the importance of the initiative and urgency of the situation, this will be Merkel's first trip to Moscow since Ukraine's conflict broke out a year ago.
"It will not be said that France and Germany together have not tried everything, undertaken everything to preserve the peace," Hollande said.
U.S. Secretary of State John Kerry is also in Ukraine, to show support for the government amid a fast-moving flurry of international diplomacy.
"Given the escalation of violence in the past days, the chancellor and President Hollande are intensifying their months-long efforts for a peaceful settlement of the conflict in eastern Ukraine," Merkel's spokesman, Steffen Seibert, said in a statement.