French first lady making progress in hospital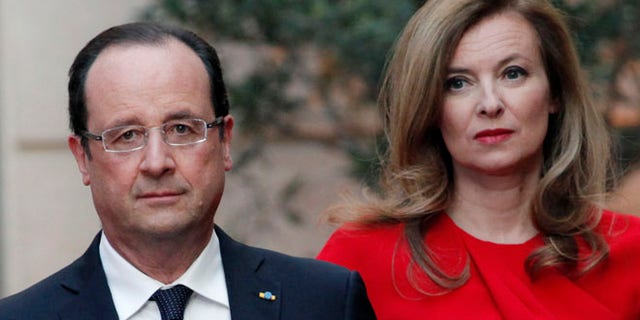 The first lady of France is making progress in a hospital, where she has been receiving care following a magazine's report that President Francois Hollande was having an affair with actress Julie Gayet.
Valerie Trierweiler, 48, was hospitalized Jan. 9 for rest after Closer magazine reported about Hollande's alleged affair with Gayet, 41. It says he sneaked into an apartment near the presidential palace to meet her.
Trierweiler spokesman Patrice Biancone told The Associated Press by phone Thursday that the first lady was progressing, saying six days of rest "counts, after all."
Earlier, a Closer representative said Gayet had filed a lawsuit against the magazine for alleged invasion of privacy.
A representative of Closer says the publication received legal documents Thursday from Gayet and her lawyers. The lawsuit seeks 54,000 euros ($74,000) in damages and other fees, plus the publication of a summary of any judicial ruling in the case on its front page.
The representative, who spoke on condition of anonymity because she wasn't authorized to speak publicly about the matter, declined to comment further.
Hollande, 59, has expressed "indignation" about the report, but stopped short of saying whether he'd sue.
The Associated Press contributed to this report.