French cram into trains on day 2 of strike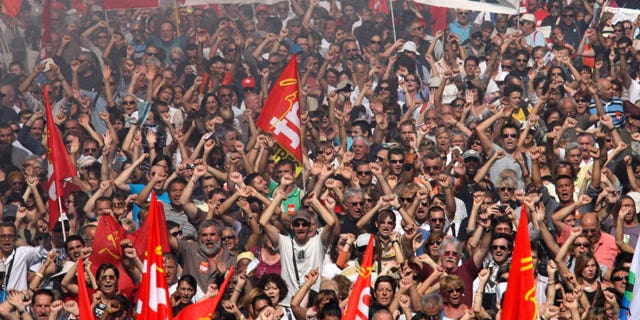 PARIS – French commuters elbowed their way onto packed subways and buses on Wednesday on day two of an open-ended strike against President Nicolas Sarkozy's plan to raise the retirement age to 62. The government held firm despite the walkouts.
Railway workers voted to carry their strike to a third day, hoping to keep up the momentum of a movement that brought at least 1.2 million people to the streets for nationwide protests Tuesday. Strikers continued blocking oil refineries, raising concerns of gasoline shortages.
Elsewhere, however, the strike appeared to diminish, from airports to the Eiffel Tower to student pickets at high schools.
Sarkozy told his government to pursue the reform "with determination and sang-froid," despite the resistance, according to his office. The governing conservatives say raising the retirement age from 60 to 62 is the only way to save the money-losing pension system — a reform that comes amid efforts across Europe to reduce sky-high debts that have threatened the euro and Europe's financial reputation.
Labor Minister Eric Woerth emphasized that "street protests don't mean that we must scrap an indispensable reform." Speaking to reporters following a Cabinet meeting Wednesday, Woerth said the contested reform "is about nothing less than saving out system."
Service on some of Paris' Metro subway and bus lines was slashed by about a quarter, with about 25 percent of Paris public transit workers still off the job on Wednesday, compared to more than 40 percent on Tuesday, according to the RATP public transport authority. Public transit in other French cities, as well as commuter train lines around Paris, were also hit.
Only about one in three TGV fast trains were running, and more than half of regular-speed domestic trains were canceled, SNCF national rail operator said. Eurostar trains, which link France to Britain, were running normally, the SNCF said in a statement.
A union leader said workers at the SNCF national railway authority had "massively" voted Wednesday to prolong the strike by another 24 hours. "That means the strike is here to stay at the SNCF," said Eric Falempin, who runs the FO-Cheminots union.
At Paris' crowded Saint-Lazare station, public transport workers handed out fliers about the protest movement and were ignored by most passers-by, but a few commuters stopped to argue about the need for a prolonged strike.
"We are suffering from this strike," said 38-year-old commuter Samuel Samouelian, waiting for a train in the northern Paris suburb of Aulnay-sous-Bois. Signs warned of disruptions because of a "social movement," and passengers' eyes were glued to information boards indicating when to expect the next train.
The Eiffel Tower was taking in tourists as usual Wednesday after Tuesday's early closure, which forced hundreds of visitors to leave the iconic steel monument.
At the French capital's two main airports, Charles de Gaulle and Orly, traffic was back to normal Wednesday morning following extensive cancellations of short- and medium-haul flights Tuesday at both airports, said a spokesman for France's DGAC civil aviation authority. Eric Heraud said traffic at the airports could be disrupted later Wednesday, as a new shift of air traffic controllers takes over in the afternoon.
Workers at oil giant Total's six French refineries kept up their protest, and in a statement Wednesday union leaders there said "not one drop of oil" has been produced at the Total plants since Tuesday morning.
The strike action that began on Tuesday was the fifth since May — but this time unions upped the stakes by making them open-ended, meaning walkouts could drag on for days or even weeks. Previous walkouts only lasted one day.
On Tuesday, about 1.2 million people marched in nationwide protests against the pension reform, according to police — the largest turnout in four nationwide demonstrations over the last five weeks. Unions put the figure much higher, at 3.5 million.
Another round of nationwide demonstrations is scheduled for Saturday.
Union leaders have vowed to press on with the strikes until the government scraps the reform, but officials have repeatedly pledged not to budge.
A key question for the authorities is what France's students will do. Students have helped bring down past government projects with major protests.
Some 135 high schools were blockaded or otherwise disrupted by striking students Wednesday, or about 3 percent of the total nationwide, according to the Education Ministry. That was down from 357 disrupted Tuesday.
Unions fear the erosion of a cherished workplace benefit, and say the cost-cutting ax is coming down too hard on workers.
Despite the strikes, parliament has pushed ahead with the reform: The lower house approved it last month, and the Senate already has approved raising the retirement age to 62 but is still debating the overall reform.
Even with the change, France would still have among the lowest retirement ages in the developed world. The country has a huge budget deficit and sluggish growth, and the government says it must get its finances in better order.
Prime Minister Francois Fillon told lawmakers that backing down would be "economic madness and a social catastrophe."
___
Associated Press writers Jean-Marie Godard, Sylvie Corbet and Angela Charlton in Paris contributed to this report.