'Free Libya' Chants Heard in City Near Capital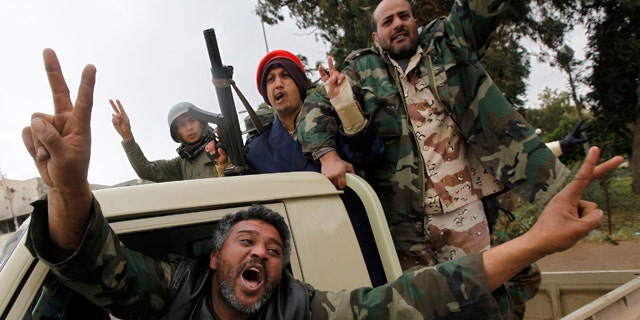 With residents shouting "Free, free Libya," anti-government rebels who control this battle-scarred city nearest to the capital deployed tanks and anti-aircraft weapons Sunday, bracing for an attack by troops loyal to Moammar Qaddafi. Politicians in the opposition stronghold of Benghazi, meanwhile, set up their first leadership council in a step that could lead to an alternative to the regime.
In the capital of Tripoli, where Qaddafi is still firmly in control, state banks began handing out the equivalent of $400 per family in a bid to win back loyalty.
"The Libyan people are fully behind me," Qaddafi defiantly told Serbian TV, even as about half of the country was turning against him and world leaders moved to isolate him. "A small group (of rebels) is surrounded ... and it will be dealt with."
Qaddafi has launched by far the bloodiest crackdown in a wave of anti-government uprisings sweeping the Arab world, the most serious challenge to his four decades in power. The United States, Britain and the U.N. Security Council all slapped sanctions on Libya this weekend, and President Barack Obama said it is time for Qaddafi to go.
Qaddafi's son, Seif al-Islam, in an interview with U.S. television, insisted that his father won't relinquish power and that Libya had not used force or airstrikes against its own people.
There were no reports of major violence or clashes on Sunday, although gunfire was heard after nightfall in Tripoli.
Secretary of State Hillary Rodham Clinton said the U.S. was "reaching out to many different Libyans who are attempting to organize in the east and as the revolution moves westward there as well." Two U.S. senators said Washington should recognize and arm a provisional government in rebel-held areas of eastern Libya and impose a no-fly zone over the area -- enforced by U.S. warplanes -- to stop attacks by the regime.
The regime, eager to reinforce its view that Libya is calm and under its control, took visiting journalists to Zawiya, 30 miles west of the capital of Tripoli on Sunday. The tour, however, confirmed that anti-government rebels control the center of the city of 200,000 people, with army tanks and anti-aircraft guns mounted on pickup trucks at the ready.
Hundreds of people chanted "Qaddafi out!" in central Zawiya, a key city close to an oil port and refineries. It also is the nearest population center to Tripoli to fall into rebel hands.
The charred hulks of cars littered the city, many buildings were pockmarked by bullets, and most streets were blocked by felled palm trees or metal barricades. Police stations and government offices have been torched, and anti-Qaddafi graffiti -- labeling him a "mass murderer" -- was everywhere. In the main square, an effigy of the leader hung from a light pole with the words "Execute Qaddafi" on its chest.
"To us, Qaddafi is the 'Dracula' of Libya," said Wael al-Oraibi, an army officer in Zawiya who decided to join the rebels in large part after Qaddafi used mercenaries from sub-Saharan Africa against residents of the city.
The mood in Zawiya was generally upbeat, with chants of "Free, free Libya," although the anticipation of a renewed attempt to retake the city was causing some anxiety among the rebels.
"We are all wanted," said one rebel at the square who did not want to give his name for fear of reprisals. "Zawiya in our hands is a direct threat to Tripoli."
On Zawiya's outskirts were pro-Qaddafi forces, also backed by tanks and anti-aircraft guns.
About 20 miles west of Zawiya, some 3,000 pro-Qaddafi demonstrators gathered on the coastal highway, chanting slogans in support of the Libyan leader.
Rebels and defecting army forces largely consolidated control of Zawiya on Thursday, after an army unit loyal to Qaddafi opened fire on a mosque where residents -- some armed with hunting rifles -- had been holding a sit-in. The square has become the burial site of six of 11 rebels killed by pro-Qaddafi forces who failed to retake the town that day. Residents reported several skirmishes between both sides since then.
At least six checkpoints controlled by troops loyal to Qaddafi stood on the road from Tripoli to Zawiya. Each one was reinforced by at least one tank, with troops who concealed their faces with scarves.
Before Zawiya fell to rebel forces, Qaddafi had scolded its residents on Thursday, saying they were in league with terror mastermind Osama bin Laden.
"Shame on you, people of Zawiya. Control your children," he said. "They are loyal to bin Laden," he said of those involved in the uprising. "What do you have to do with bin Laden, people of Zawiya? They are exploiting young people. ... I insist it is bin Laden."
Qaddafi blasted sanctions against his country and vowed to stay in power, telling Serbia's private Pink TV in a telephone interview that "the Libyan people are still behind me."
"Currently in Libya there are no incidents, now everything is quiet," Qaddafi said.
His son, Seif al-Islam, again denied in a TV interview that the Libyan regime used force or airstrikes against its own people.
"Show me a single attack. Show me a single bomb," he told ABC's "This Week." "The Libyan air force destroyed just the ammunition sites. That's it."
Human rights groups and European officials have put the death toll since unrest began in Libya nearly two weeks ago at hundreds -- perhaps thousands -- although it has been virtually impossible to verify the numbers.
The British-educated Seif al-Islam is the most visible of Qaddafi's children and has been acting as a spokesman for the regime.
"The whole south is calm. The west is calm. The middle is calm. Even part of the east," he said.
Asked about Obama's call for his father to step down, he said: "It's not an American business, that's No. 1. Second, do they think this is a solution? Of course not."
As for the U.S. freeze of Libyan assets, he said: "First of all, we don't have money outside. We are a very modest family and everybody knows that."
Libya's Foreign Ministry said it regretted the U.N. Security Council resolution, saying it was based on "untrue media reports."
Qaddafi loyalists remain in control of Tripoli, where most stores were closed and long lines formed outside the few banks open for business.
Residents thronged to the banks after state TV promised each family 500 Libyan dinars (about $400), plus the equivalent of about $100 credit for phone service. State TV also said families also will be entitled to 60,000 Libyan dinars (about $49,000) in interest-free loans to buy apartments.
State TV showed video of people handing over identity documents to bank tellers, who processed the information. Some people, however, said they only got vouchers when banks ran out of money.
Libya's Central Bank said in a statement on state TV that payments will be made for the next few days. "Give banks a chance to secure the needed liquidity in its branches at the suitable time," it said.
One resident said Tripoli's calm may be deceptive.
"The situation is being constructed to look natural, but it is not," said a 40-year-old Tripoli businessman who did not want to be named for fear of reprisals. "People are scared and they are waiting for the fall of the regime. People are scared to go out or to gather because some areas have been taken over by armed groups loyal to the regime."
Another Tripoli resident, a 21-year-old Libyan-American who only wanted to be identified by her first name, Rahma, said the city was deserted Sunday. "No one is driving around, no one is out in the streets."
Her aunt, she said, went out and came back to tell the rest of the family that there were pro-regime checkpoints across the city.
A doctor in Libya's third-largest city of Misrata, 125 miles east of Tripoli, said residents retrieved two more bodies of those killed in fighting with pro-Qaddafi forces near the city's air base Friday. That raised the death toll from fighting to 27. About 30 people who took part in the battle remain unaccounted for, said the doctor who spoke on condition of anonymity because he feared reprisals.
In Libya's second-largest city of Benghazi, politicians said Sunday they are setting up a council to run day-to-day affairs in the eastern half of the country under their control. It was seen as the first attempt to create a leadership body that could eventually form an alternative to the Qaddafi government.
Former Justice Minister Mustafa Abdel-Jalil, who defected from the Qaddafi regime, said Saturday he was setting up a provisional government.
But a prominent human rights lawyer, Abdel-Hafidh Ghoga, held a news conference to shoot down the claim, saying instead that politicians in the east were establishing the transitional council only to manage daily life in the rebel-controlled areas until Qaddafi falls.
U.N. Secretary-General Ban Ki-moon was due in Washington on Monday to discuss with Obama other possible measures that could be taken against the Libyan government.
U.S. Sens. John McCain and Joseph Lieberman said on CNN's "State of the Union" that the U.S. and its allies should enforce a no-fly zone over Libya to prevent the military from again firing on civilian protesters from the air. Lieberman said Washington should arm the provisional government in rebel-held areas of eastern Libya "to fight on behalf of the people of Libya against a really cruel dictator."
The White House had no immediate comment.
British and German military planes landed in Libya's desert, rescuing hundreds of oil workers and civilians stranded at remote sites over the weekend, while thousands of other foreigners were still stuck in Tripoli by bad weather and red tape. The secret military missions signal the readiness of Western nations to disregard Libya's territorial integrity when it comes to the safety of their citizens.
Thousands of Egyptian and Chinese expatriates, meanwhile, continued to stream out of Libya on its western border with Tunisia into camps near the frontier.