Francois Hollande takes the helm in France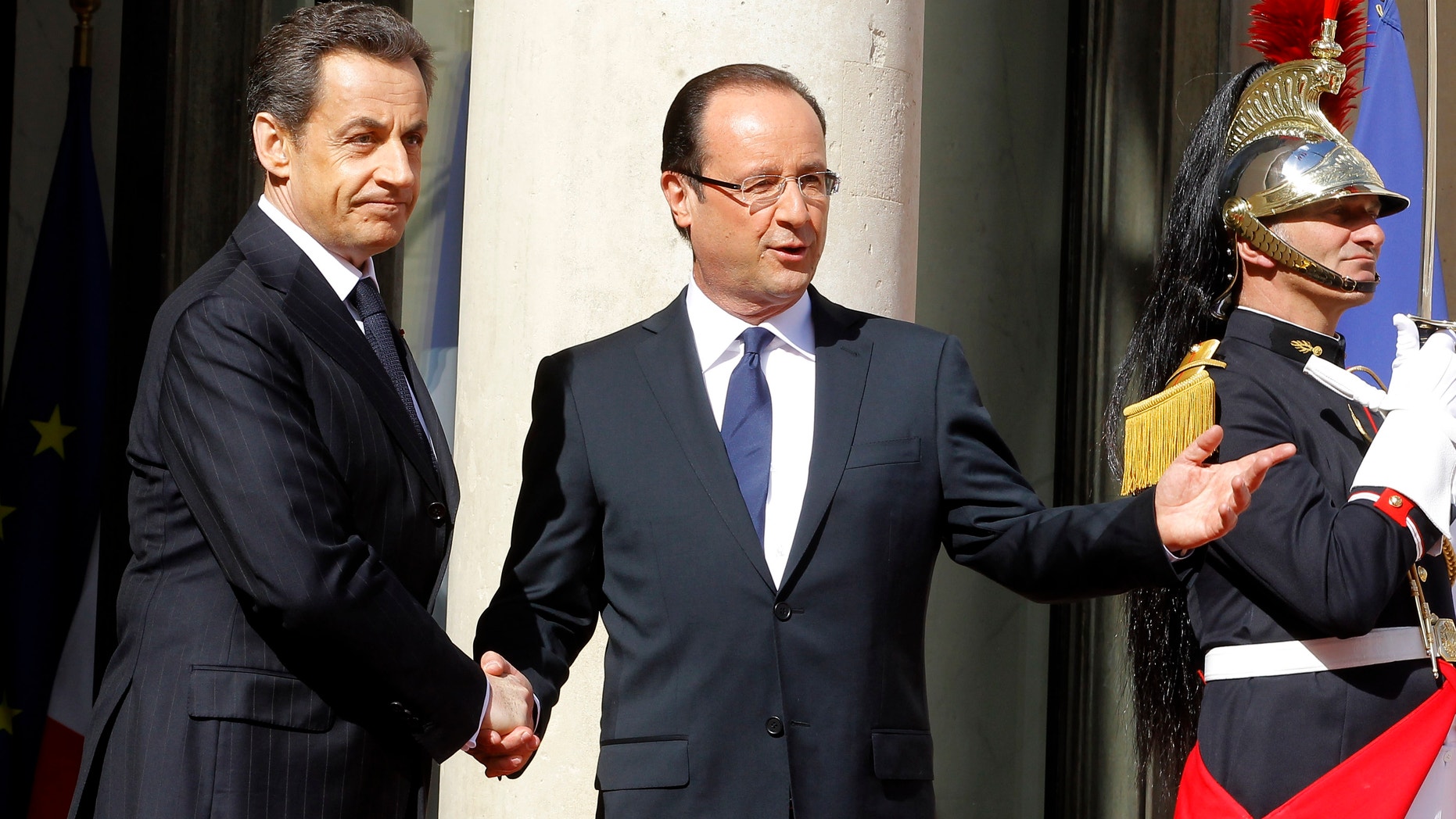 PARIS – Francois Hollande walked up the steps of the Elysee Palace in Paris and walked out Tuesday as France's first Socialist president since 1995, taking the helm of a country worried about Europe's future and pledging to make it a fairer place.
The 57-year-old rode to the presidency on a wave of resurgent leftist sentiment amid Europe's debt woes and protests against capitalism around the world.
After ceremony steeped in tradition, Hollande displayed his populist touch with a rain-soaked ride up the Champs-Elysees avenue, standing tall in his vehicle's sunroof to wave to crowds lining the streets before getting out for handshakes with adoring crowds.
Hollande then left within hours on his first diplomatic foray — to Berlin, following a postwar custom for new French leaders to reach out to their German counterparts to solidify European unity. He also named a moderate member of his Socialist party, Jean-Marc Ayrault, as his prime minster.
Hollande and German Chancellor Angela Merkel are in different camps, however, when it comes to solving Europe's debt crisis. While new figures Tuesday showed the 17-nation eurozone has avoided a new recession, thanks largely to Germany, new political turmoil in Greece was reviving fears about the fate of their shared euro currency.
Hollande is only the second Socialist president of modern France, after Francois Mitterrand's 1981-1995 tenure. He was elected to run this nuclear-armed nation earlier this month after voters ousted incumbent Nicolas Sarkozy after only one term. Voters were disappointed over Sarkozy's handling of France's economy — which has high unemployment and low growth — and recoiled at his aggressive personality.
Arriving Tuesday morning at the 18th-century Elysee Palace, the traditional residence of French presidents, Hollande was greeted by Sarkozy on the red-carpeted steps. The two held a 40-minute private meeting that is traditionally the moment when the outgoing president hands over the codes to France's nuclear arsenal.
Hollande was declared president after the head of the constitutional court read out the final results of the May 6 election.
The new president immediately acknowledged the challenges he inherits: "a massive debt, weak growth, high unemployment, degraded competitiveness, and a Europe that is struggling to come out of crisis."
In his speech, Hollande promised to fight financial speculation and "open a new path" in Europe. He has pushed back against a European budget-cutting pact championed by Merkel and Sarkozy.
"To overcome the crisis that is hitting it, Europe needs plans. It needs solidarity. It needs growth. To our partners, I will propose a new pact that will tie the necessary reduction of public debt with the indispensable stimulus of the economy," he said.
Hollande also pledged to bring "dignity and simplicity" to the presidential role — something voters felt that Sarkozy did not always do.
With the economy in the doldrums and joblessness high, the French mood is glum and many voters are looking to the inauguration as a rare moment of national pride, and to Hollande's presidency as a new opportunity to make things better.
Earlier Tuesday, the state statistics agency released new figures showing that the French economy had failed to grow in the first quarter. Some economists predict a contraction ahead, which would complicate Hollande's promises to rein in the deficit.
World markets and other European leaders will be watching closely to see whether and how Hollande follows through on his campaign promises, such as pulling French troops out of Afghanistan, freezing gasoline prices and hiking taxes on the rich. Observers expect that once he settles into the presidency, he's likely to fall back into the moderate consensus-building that has characterized his career.
Crucial to Hollande's presidency will be his relationship with Merkel, the German chancellor.
The announcement of lawmaker Ayrault (ay-ROW) as prime minister may well prove a key advantage for this relationship. Ayrault, who leads the Socialists in Parliament, is a German speaker and a former teacher of the language of Goethe. The 62-year-old Ayrault and Hollande are said to be very close.
After the Berlin visit, Hollande heads later this week to the United States to meet President Barack Obama and attend summits of the Group of Eight and NATO.
In the ceremony Tuesday, Hollande received the insignia of the Grand Croix from the hands of Gen. Jean-Louis Georgelin, who heads the prestigious Legion of Honor, and the necklace of the Great Master of the Order of the Legion of Honor. Each linked medallion of the necklace bears the name of a president, with Hollande's name recently added.
Hollande shook hands with many of the hundreds at the ceremony, then reviewed troops in the palace gardens. Following tradition, 21 shots were fired from cannons at the Invalides, a domed complex on the opposite side of the Seine River that holds Napoleon's tomb.
Rain started pouring down on the famed Champs-Elysees avenue as Hollande rode up its center, standing in the sunroof of his hybrid Citroen DS5, trailed by dozens of Republican Guardsmen on horseback and motorcycle. His suit was visibly drenched within moments. He then headed for the Arc de Triomphe, and its monument to the unknown soldier.
Hollande, sticking to his campaign promises of being a more "normal" president, broke with protocol by walking over to the barricades to shake hands — and even kiss — adoring onlookers.
His second presidential speech of the day focused on education, as he pledged to create 60,000 new teaching jobs in the aftermath of cuts Sarkozy had made.
Hollande, who has never been married, was joined for the Elysee ceremonies and in his motorcade car Tuesday by his girlfriend, journalist Valerie Trierweiler.
Hollande's former partner and the mother of his four children, Segolene Royal, joined him later Tuesday in a ceremony at Paris City Hall. Royal, a prominent Socialist politician, was runner-up to Sarkozy in the 2007 election. She is angling for a top job under Hollande's presidency.
Hollande's first presidential meal reflected relative modesty, at least by French culinary standards: lobster and citrus terrine, cote de boeuf, and strawberry macaron cookies for dessert.
Sarkozy left the palace hand-in-hand with wife Carla Bruni-Sarkozy, had a last handshake on the palace steps with Hollande, then was driven away. Former staff members gathered in the palace courtyard applauded loudly as Sarkozy left, and fans at the Elysee gates waved signs reading "Nicolas, merci!"
___
Thomas Adamson, Cecile Brisson and Sarah DiLorenzo in Paris contributed to this report.