France's Le Pen lauds Ford decision as win for protectionism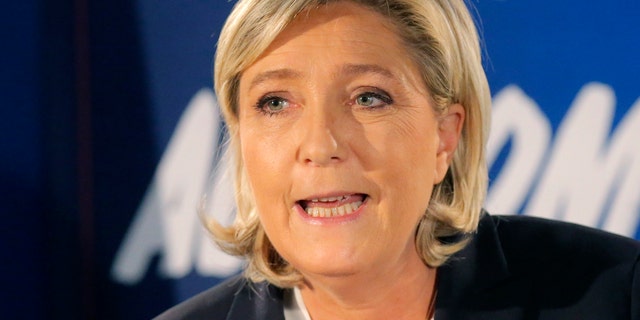 PARIS – French far-right presidential candidate Marine Le Pen cheered Ford Motor Co.'s decision to shift investment from Mexico to the U.S., saying on Wednesday that it is victory for the protectionist policies she champions.
In a New Year's address to journalists, Le Pen said Ford's decision is proof that "protectionism works, when it is led by determination, and when a country can exercise its economic independence."
The National Front party leader, a top candidate in France's presidential election next spring, has already suggested that President-elect Donald Trump's victory could have a favorable impact on her own campaign, along with Britain's Brexit vote to leave the European Union.
Le Pen dubs herself a "patriot" and campaigns against immigration, the EU and a system of politicians, banks and other deciders she claims is bringing France down — and which she vows to break.
FRENCH FAR-RIGHT LEADER LE PEN: TRUMP WIN BOOSTS HER CHANCES
"Political will pays," she said. "The proof is what Donald Trump obtained."
Ford is canceling plans to build a $1.6 billion factory in Mexico and will instead invest some of that money in a U.S. factory.
Le Pen wasn't the only French presidential candidate to lavish kudos on Trump for Ford's decision.
Arnaud Montebourg, a former economics minister seeking the Socialist Party candidacy, also proposes protectionist measures to help French industry.
"I see that Donald Trump used the Montebourg method!," he joked at a Wednesday news conference. "A strong and protecting state is a state which pays attention to the country's industrial and economic interests ... because it's a power struggle between politics and economy."
Montebourg advocates state intervention to protect national interests and keep jobs and companies in the country. As economy minister from 2012 to 2014, he was responsible for a decree broadening the government's right to intervene when foreign companies want to buy firms the state considers vital, for instance in the energy, transport, health and communications sectors.
Montebourg is among seven running for the Socialist candidacy in a two-round primary this month. Socialist President Francois Hollande, bowing to his personal unpopularity, isn't seeking a second term, and is leaving his party in disarray.
In contrast, the far-right candidate, now in her second presidential race, said she and her team are "ready, resolute, organized," and she is already preparing her first five years in office. "I know where I'm going and how I'm going to get there."
Speaking privately, she refused to name any French companies that might be squeezed to bend to what she calls "economic patriotism."
"It's nearly an excess of numbers," she laughed.
THE REVOLUTION THAT GAVE US BREXIT AND TRUMP COULD BE ABOUT TO HIT FRANCE
The National Front's No. 2, Florian Philippot, said that no one company comes to mind but the French auto industry, in particular, outsources to third countries and the "same arguments, the same will, the same tools" used by Trump would be employed in a France run by the National Front.
"We can imagine an equivalent solution. We must imagine ... we have a duty."
Echoing Le Pen's vision of a France freed from the syndrome of politics as usual, Philippot said the April 23 and May 7 presidential election is "practically a referendum ... on a free France or a France under (EU) guardianship."