France's Ban on Face-Covering Islamic Veil Met With Defiance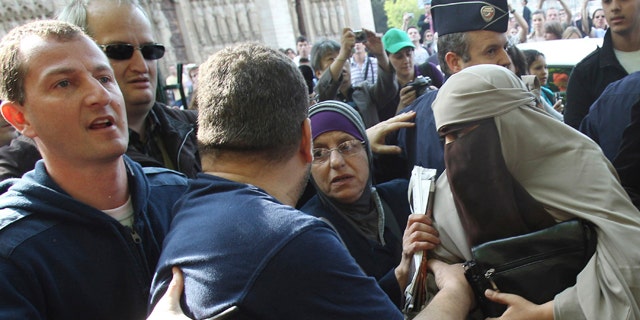 PARIS -- France's new ban on Islamic face veils was met with a burst of defiance Monday, as several women appeared veiled in front of Paris' Notre Dame Cathedral and two were detained for taking part in an unauthorized protest.
France on Monday became the first country to ban the veils anywhere in public, from outdoor marketplaces to the sidewalks and boutiques of the Champs-Elysees.
French President Nicolas Sarkozy set the wheels in motion for the ban nearly two years ago, saying the veils imprison women and contradict this secular nation's values of dignity and equality. The ban enjoyed wide public support when it was approved by parliament last year.
Though only a very small minority of France's at least 5 million Muslims wear the veil, many Muslims see the ban as a stigma against the country's No. 2 religion.
About a dozen people, including three women wearing niqab veils with just a slit for the eyes, staged a protest in front of Notre Dame on Monday, saying the ban is an affront to their freedom of expression and religion.
Much larger crowds of police, journalists and tourists filled the square.
One of the veiled women was seen taken away in a police van. A police officer on the site told The Associated Press that she was detained because the protest was not authorized and the woman refused to leave when police asked her to. The officer was not allowed to be publicly named.
The Paris police administration said another woman was also detained for taking part in the unauthorized demonstration.
It was unclear whether the women were also fined for wearing a veil. The law says veiled women risk a $215 fine or special citizenship classes, though not jail.
People who force women to don a veil are subject to up to a year in prison and a $43,000 fine, and possibly twice that if the veiled person is a minor.
The law is worded to trip safely through legal minefields: The words "women," "Muslim" and "veil" are not even mentioned. The law says it is illegal to hide the face in the public space.
While Italy also has a law against concealing the face for security reasons, France's law was the first conceived to target veil-wearers. Sarkozy said he wanted a ban, and that the veils are not welcome in France.
Moderate Muslim leaders in France and elsewhere agree that Islam does not require women to cover their faces, but many are uncomfortable with banning the veil. Religious leaders have denounced the measure, and are struggling with what to advise the faithful.
The plans for a ban prompted protests in Pakistan last year and warnings from Al Qaeda. It also has devout Muslim tourists skittish, since it applies to visitors as well as French citizens.
Authorities estimate at most 2,000 women in France wear the outlawed veils. France's Muslims number at least 5 million, the largest such population in western Europe.
The ban affects women who wear the niqab, which has just a slit for the eyes, and the burqa, which has a mesh screen over the eyes.
Kenza Drider, who lives in Avignon and wears a niqab, calls the ban racist. She was planning to attend Monday's protest.
Right before the ban came into effect, she said she would continue to go "shopping, to the post office and to city hall if necessary. I will under no circumstance stop wearing my veil."
"If I am warned verbally and must appear before the local prosecutor.... I will appeal to the European Court of Human Rights," she told AP Television News.
The veil, for her, "is a submission to God," Drider said.
Police complained that the law will be a challenge to enforce.
"The law will be infinitely difficult to apply, and it will be infinitely rarely applied, unfortunately," Emmanuel Roux of the police union SCPN said on France-Inter radio.
He said police have been instructed not to use force to remove the veils, and that if a woman refuses to remove it, the police officer is meant to call the prosecutor for further legal action. Only in very extreme cases, he said, would a woman be jailed for refusal to remove a veil.
Public opinion in Paris on the morality of enforcing the ban appears mixed.
"It's not a racist law. It's just a law that is coming from the history of France and so you need to accept it if you want to integrate into France and with French people," insisted Laurent Berrebe, an economist walking in central Paris on Monday.
Nurse Olfa Belmanaa is opposed. "We are in France, we are in a democractic country where everyone has the right to do what they want. If they want to wear a veil or go completely nude that's their right."
The ban had strong support from France's leading parties on left and right, in a country where some people equate the veils with extremism and security risks. France separated church and state with a 1905 law, but has struggled in recent years to integrate a growing Muslim population and nuances of the Muslim faith.
Police on Saturday arrested 61 people for attempting to hold an outlawed Paris protest against the pending ban.
Many Muslims have also felt stigmatized by a 2004 law that banned Islamic headscarves in classrooms.