France, wary of backlash from their war in Mali, tries to root out would-be jihadists at home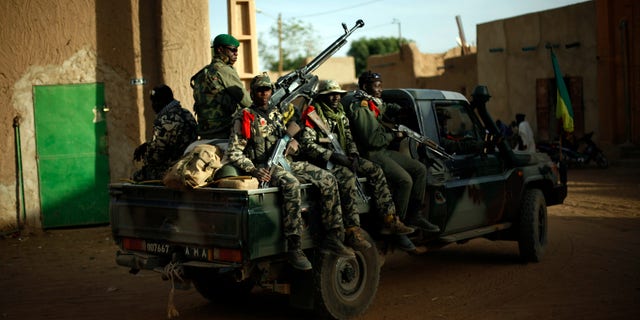 PARIS – France, waging war against Islamist extremists in Mali, is on the hunt for would-be fighters at home, fearful that they will join militants in the conflict in its former African colony or take radical action on French soil.
With Iraq and Afghanistan no longer magnets for foreign fighters, officials say they worry that some angry youth among the country's large Muslim population are instead looking to test their radicalized faith on the battlefield in Mali or the Syrian civil war.
Police have rounded up youths they suspect of trying to join Islamist extremists in West Africa, arresting four this week, and expelled radical imams and others considered risks to public order. Authorities, who have long viewed France's Muslim community of at least 5 million with a special lens, say they fear they could trigger a spread of radicalization among Muslims in disaffected suburban housing projects where unemployment and resentment against state institutions is rife.
Moderate Muslims express concern that sweeps against suspected Islamist extremists risk stigmatizing all Muslims in France.
In the latest case, authorities detained four people in a Paris suburb who are believed to have links to a Frenchman caught last year in Niger on the border with Mali as radical fighters were expanding their control in the region.
French authorities are trying to determine whether there were links among them, or to a budding network for sending fighters from France to the Sahara, a judicial official said on the condition of anonymity because an anti-terrorist investigation is under way.
"We must continue this work of dismantling these networks that want to act on our territory or sneak out individuals to carry out jihad," Interior Minister Manuel Valls said on French television Tuesday. "We are also fighting an internal enemy."
Trying to sell the country's military intervention to international partners, President Francois Hollande stressed from the outset that European security was directly at risk from radical Islamists and that Mali could become a sanctuary for global jihadists.
But no one knows how many foreign fighters went to Mali to join Islamists in their bid to transform the country — and it is unclear whether the French invasion is inspiring more. Most of the foreign militants came from neighboring African countries, experts say, and there is general agreement that the number of Europeans who went to Mali before the war started is low.
Valls said on BFM-TV that there are "probably a handful" of French who went to Mali and authorities know of several who wanted to get there. Someone proven to be heading to combat zone risks being charged in France with preparing an act of terrorism.
Since the beginning of the intervention, French officials have repeatedly warned that the campaign has raised the risk that France becomes a target of terrorist anger. Dreaded scenarios include French citizens hardened in battle or driven by jihad continuing their mission on home soil, or spreading their message to Malian immigrants in France.
Those with dual citizenship are of special concern to French authorities, because they can travel freely to and from Africa and go unnoticed in countries within Europe's large border-free area.
Of the four detained Tuesday in and around the Paris suburb of L'Hay les Roses, three are French citizens — including one with joint Franco-Algerian citizenship — and one is a Malian, the judicial official said.
Authorities suspect that the four, aged between 22 and 37, were in contact with a man identified as Cedric Lobo who was arrested in August at the Niger-Mali border allegedly trying to join radicals in northern Mali. He was expelled to France and is now under investigation for criminal association, with plans to prepare a terrorist act, the judicial official said.
Separately, a 24-year-old French-Malian, Ibrahim Ouattara, was arrested in November by Malian authorities. The native of the northern Paris working class suburb of Aubervilliers, who had a history of trips to places like Yemen and Somalia, where Islamist radicals are active, is suspected of being a scout to set up a recruiting network to Mali. He remains in custody in Bamako and a preliminary investigation has been opened in France.
One Frenchman in Mali has flaunted his radical Islamist cause to French authorities. Gilles Le Guen, a former merchant marine from Brittany, has lived in Timbuktu for two years, a convert to the radical cause. In a video released online in October, Le Guen, wearing a black turban and assault rifle at his side, threatened President Francois Hollande and warned against a French military intervention.
"I am following the road traced by Osama bin Laden," he said in a telephone interview with the French newsmagazine L'Express in January, days before the French intervention began.
Valls noted that France must cope with potential radicals on two fronts: Mali and Syria, where a civil war has attracted jihadists. Dutch police arrested three Muslim men in November in Rotterdam because they wanted to go to Syria to take part in the jihad, prosecutors said at the time. Norwegian, Swedish and Danish security services are among countries that have expressed concern over citizens joining the uprising in Syria.
The French interior minister said several dozen French citizens or residents have gone to Syria, often joining groups controlled by al-Qaida.
_______
Angela Charlton in Paris contributed to this report.
_______
Follow Ganley on Twitter at: http:// Twitter.com/Elaine_Ganley