France to withdraw 1,200 troops from Central African Republic by autumn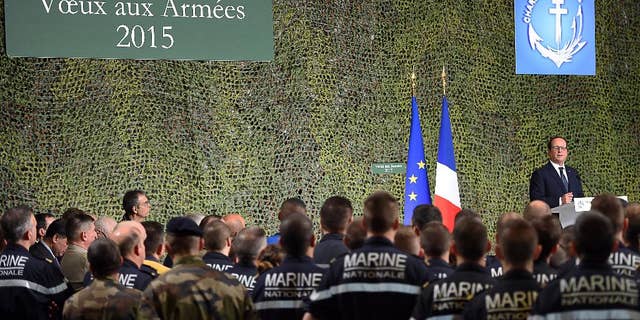 NEWYou can now listen to Fox News articles!
ABOARD THE CHARLES DE GAULLE AIRCRAFT CARRIER – France's president says the country will withdraw 1,200 troops from the Central African Republic by autumn now that U.N. peacekeepers are deployed.
The French presence will be reduced from 2,000 to 800 troops.
President Francois Hollande said Wednesday "we allowed this country — one of the poorest in the world — to begin healing." Holland made the comments in a speech aboard the Charles de Gaulle aircraft carrier to members of France's military.
France began sending troops in December 2013 to stabilize the Central African Republic after a Muslim rebel coalition overthrew the president and sectarian violence erupted, killing at least 5,000 people.
A U.N. mission took over peacekeeping duties from an African Union force in September, but the security situation in the country remains precarious.