France opens first trial tied to Rwandan genocide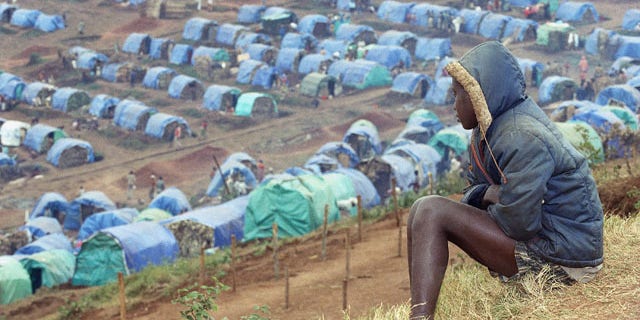 PARIS – The first trial in France over Rwanda's genocide opened on Tuesday in a Paris court two decades after a killing spree that left at least a half-million people dead.
Pascal Simbikangwa, a 54-year-old former intelligence chief, faces charges of complicity in genocide and complicity in war crimes. He could face a life sentence if convicted after the seven-week trial.
The defendant, infirm from an accident years ago, was wheeled into the courtroom then transferred by gendarmes to a cushioned wheelchair into a glassed-in area where defendants sit. Wearing a leather jacket and running shoes, he slouched in his seat, arms folded.
He identified himself to the court as "Pascal Safari," a combination of his real name and his alias, Senyamuhara Safari, according to court documents.
The case has highlighted criticism of France's own reaction to the genocide a generation ago, and its slow exercise of justice after the slaughter of at least 500,000 people over 100 days.
"Today's trial in Paris ... will be an important moment in the global fight against impunity," Leslie Haskell, the international justice counsel for Human Rights Watch, said in a statement. He noted the creation of a special war crimes unit in the French justice system in 2012.
"France now has the tools it needs to ensure (that) perpetrators of the world's most serious crimes don't escape justice or find a safe haven in the country," Haskell said.
France had close ties to the government of Rwandan President Juvenal Habyarimana, an ethnic Hutu who was killed when his plane was shot down in 1994. His death set off a torrent of reprisal slayings of ethnic Tutsis and moderate Hutus, in what has been called the 20th century's fastest genocide.
An array of civil parties to the case say Simbikangwa, who came from the same town as Habyarimana and was allegedly a relative, was in the inner circle. From at least one roadway checkpoint in Kigali, he is alleged to have incited the army to identify and slaughter Tutsis.
France, critics say, was slow to act, out of a combination of self-delusion and unwillingness to face up to bad decisions. Before the killings, French troops armed and trained the Rwandan army. During the genocide, they allegedly helped radical Hutus flee. Later, France took in a number of exiles who have lived for years free of prosecution.
A French trait for "ill-founded self-certainties" that engulfed "the administration, the army and the diplomatic corps" was to blame, according to French former Foreign Minister Bernard Kouchner, who made repeated trips to Rwanda during the genocide as a humanitarian aid activist.
Simbikangwa's defense lawyers planned to argue for an acquittal, but have expressed concern the hearing will be lopsided -- in part because of the difficulty in finding witnesses who will speak out for their client's defense.
More than 50 witnesses -- including journalists, historians, farmers, security guards and intelligence officials -- are expected to be called to testify, nearly all by the prosecution. During the proceedings, several films are to be shown, including one whose title translates as "Kill Them All" -- a 2004 documentary on the genocide.
The trial could be the first of many. Another 27 cases linked to Rwanda's genocide await in the Paris court's war crimes unit, including one focusing on Hayarimana's widow.
The U.N. tribunal on the Rwanda genocide and several Western countries -- including Belgium, a former colonial overseer of the African country -- have brought scores of Rwandans to justice. The United Nations International Criminal Tribunal in Arusha, Tanzania, will close later this year, and is now only hearing appeals, officials say.
Documents from the Tanzania tribunal show France over the years handed over three suspects -- a dribble compared to the number of cases now waiting in French courts.