France: Israel's ban on Palestinians could escalate violence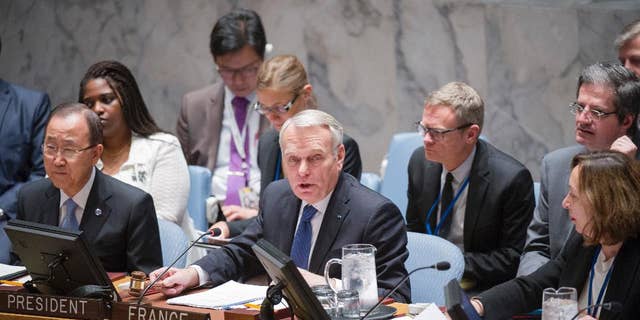 NEWYou can now listen to Fox News articles!
UNITED NATIONS – France's foreign minister is warning that Israel's ban on Palestinians entering its territory following the "abominable" attack on a popular cafe in Tel Aviv could escalate violence instead of focus attention on the need to pursue peace.
Jean-Marc Ayrault reiterated France's condemnation of the attack, which killed four civilians, but was critical of Israel's response.
"The decision by the Israeli authorities today to revoke tens of thousands of entry permits could stoke tensions which could lead to a risk of escalation," he told a small group of reporters. "We must be careful about anything that could stoke tensions."
Ayrault was at U.N. headquarters for a Security Council debate on protecting civilians in peacekeeping operations. Last Friday, France hosted an international meeting aimed at finding a new strategy for Mideast peace.