France increases security at some of its embassies after magazine publishes prophet cartoons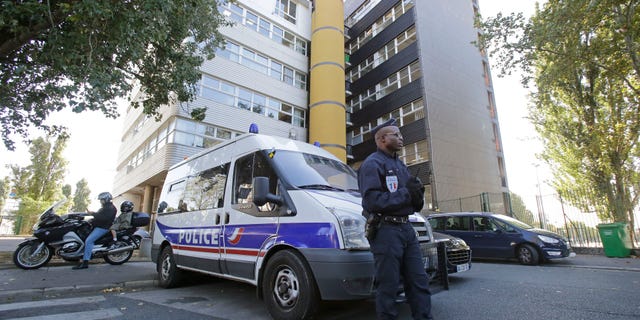 PARIS – France stepped up security at some of its embassies on Wednesday after a satirical Parisian weekly published crude caricatures of the Prophet Muhammad. The prime minister said he would block a demonstration by people angry over a movie insulting to Islam as the country plunged into a fierce debate about free speech.
The government defended the right of magazine Charlie Hebdo to publish the cartoons, which played off of the U.S.-produced film "The Innocence of Muslims," and riot police took up positions outside the offices of the magazine, which was firebombed last year after it released an edition that mocked radical Islam.
The amateurish movie, which portrays the prophet as a fraud, a womanizer and a child molester, has set off violence in seven countries that has killed at least 28 people, including the U.S. ambassador to Libya.
Government authorities and Muslim leaders urged calm in France, which has western Europe's largest Muslim population.
CFCM, an umbrella group for French Muslims, issued a statement expressing "deep concern" over the caricatures and warning that "in a very tense context, it risks exacerbating tensions and provoking reactions."
It urged French Muslims to "not cede to provocation and ... express their indignation in peace via legal means."
Prime Minister Jean-Marc Ayrault said organizers of a demonstration planned for Saturday against "Innocence of Muslims" won't receive police authorization.
"There's no reason for us to let a conflict that doesn't concern France come into our country," Ayrault told French radio RTL.
Paris prosecutors have opened an investigation into an unauthorized protest last Saturday around the U.S. Embassy that drew about 150 people and led to scores of arrests.
The tensions surrounding the film are provoking debate in France about the limits of free speech.
The small-circulation weekly Charlie Hebdo often draws attention for ridiculing sensitivity around the Prophet Muhammad, and an investigation into the firebombing of its offices last year is still open. The magazine's website was down Wednesday for reasons that were unclear.
One of the cartoonists, who goes by the name of Tignous, defended the drawings in an interview Wednesday with The Associated Press at the weekly's offices, on the northeast edge of Paris amid a cluster of housing projects.
"It's just a drawing," he said. "It's not a provocation."
The prime minister said freedom of expression is guaranteed in France, but cautioned that it "should be exercised with responsibility and respect."
Foreign Minister Laurent Fabius, speaking on France Inter radio, said the principle of freedom of expression "must not be infringed."
But he added: "Is it pertinent, intelligent, in this context to pour oil on the fire? The answer is no."
He said he had "sent instructions to all countries where this could pose problems. We are taking specific security measures."
On the streets of Paris, public reaction was mixed.
"I'm not shocked at all. If this shocks people, well too bad for them," said Sylvain Marseguerra, a 21-year-old student at the Sorbonne. "We are free to say what we want. We are a country in which freedom prevails and ... if this doesn't enchant some people, well too bad for them."
Khairreddene Chabbara disagreed. "We are for freedom of expression, but when it comes to religion it shouldn't hurt the feelings of believers."