Four Days After Monster Truck Tragedy In Mexico, No Officials Yet Held Accountable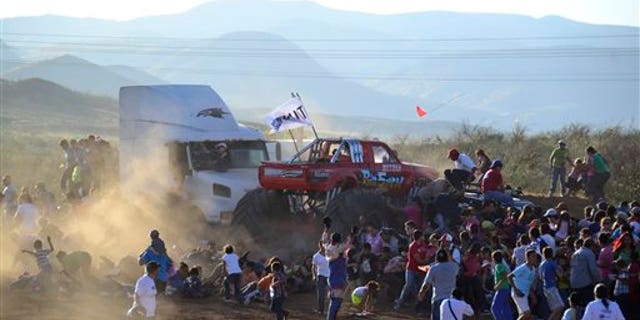 Four days after a monster truck careened into a crowd of spectators in Chihuahua, Mexico, killing nine and injuring 80, no city official or authority of any kind is being held accountable for the tragedy.
According to the newspaper El Diario de Chihuahua, Espectáculos Extremos, the company behind the event, was founded just three months ago and one of its partners is a family member of the Chihuahua governor.
Veteran monster truck show organizers said spectators should never have been standing that close to the arena floor unprotected, regardless of the trajectory of the truck, experts said. They said properly organized shows take place in an arena with a safety zone separating spectators from the trucks, which the Chihuahua city show lacked.
The driver of the truck, Francisco Velazquez Samaniego, has been charged with manslaughter.
Chihuahua state prosecutors read the charges against Francisco Velazquez Samaniego during a hearing in which they also listed the names and injuries of the people killed.
"He didn't meet the age and health requirements needed to be part of the show," prosecutor Gerardo Carbajal said. He didn't specifiy what those requirements are.
Velazquez Samaniego, 51, said in court that his helmet came off as the truck bounced over old cars and he lost consciousness when his head hit metal bars inside the cabin.
"I was driving to one side and then I turned around and drove to the other side, my helmet came off and I hit my head and lost consciousness," he said. "I wasn't conscious when the truck fell" on the people.
Event organizers said hundreds of people gathered without permission in the pit area of a makeshift arena in a park.
Based on reporting by The Associated Press.
Follow us on twitter.com/foxnewslatino
Like us at facebook.com/foxnewslatino