Fort Hood Shooter Ivan Lopez's Chilling Facebook Post: 'The Devil Will Take Me...Green Light And Finger Ready'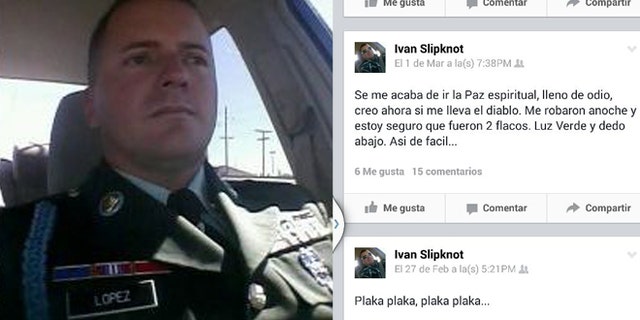 NEWYou can now listen to Fox News articles!
Fort Hood gunman Iván López posted a chilling Facebook status just weeks before his deadly rampage in which he said the "devil" had taken him and that he was "full of hatred," Fox News Latino has learned.
The post dated March 1 alluded to the Army specialist's roiling anger over his belief he had been robbed.
"I have just lost my inner peace, full of hatred, I think this time the devil will take me," Spc. Iván López posted on his Facebook page.
"I was robbed last night and I am sure it was 2 "flacos" (guys). Green light and finger ready. As easy as that."
López, 34, killed three people and injured 16 others before taking his own life after opening at the sprawling Ft. Hood Army base in Texas on Wednesday. The Fort Hood commander Lt. Gen. Mark Milley, III Corps said Thursday a "verbal altercation" with another soldier or soldiers may have "immediately preceded shooting," Milley said, adding that there are "strong indications" that's what sparked the shooting.
"We're trying to figure out what the trigger event was," Milley told reporters, saying investigators are working to determine whether the shooting was pre-meditated. The Army says it does not have a motive though people who knew López in his Puerto Rican hometown say he was distraught over the death of his mother and his belief that the Army had tried to prevent him from attending her funeral last year.
López posted on Facebook under the name Ivan Slipknot, using the name of an American heavy metal band.
López served four months in Iraq in 2011. He served nine years in the Puerto Rican National Guard. Though he saw no combat action, López told authorities upon his return that he had suffered a traumatic brain injury in Iraq. López was taking medication and had sought help for depression and anxiety while undergoing a process to determine whether he had post-traumatic stress disorder.
"He was not a wounded warrior," said Lt. Gen. Milley, the senior officer at Fort Hood. "We do know that this soldier had behavioral health and mental health issues, and was being treated for that."
Friends of López's family, including the mayor of López's hometown of Guayanilla, Puerto Rico, told Fox News Latino they are "shocked" and "devastated" by news of López's rampage. Some speculated the sudden death of his mother, Carmen López, who was a nurse of the Center for Diagnosis and Treatment in Guayanilla, could have triggered the deadly rampage. She died in November of a heart attack.
López is a father of four and has been married twice. Two of his children live in Puerto Rico with his ex-wife, and two live in the United States.
The Associated Press contributed to this article.