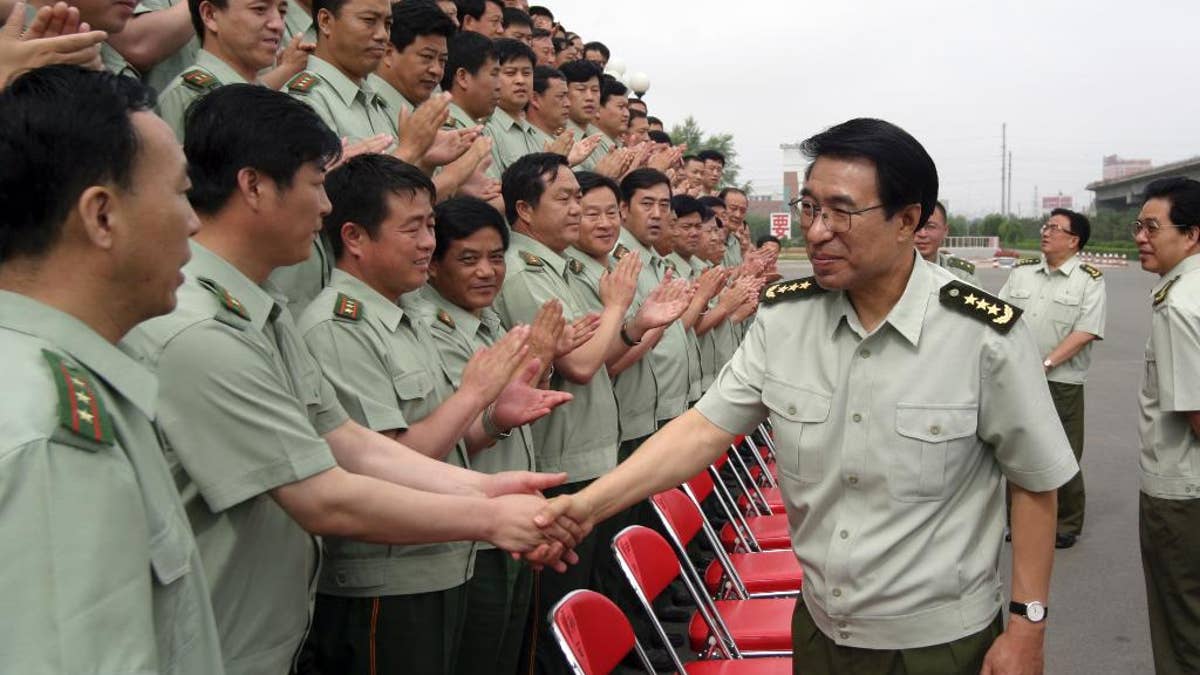 BEIJING – The Chinese military's former second-highest ranking officer, Xu Caihou died in a hospital of cancer while he was being investigated on suspicion of taking bribes and brokering promotions, state media reported early Monday. He was 71.
A former deputy chairman of the ruling Communist Party's Central Military Commission, Xu was the most senior military figure detained in a sweeping crackdown on corruption within the party launched by President Xi Jinping.
Xu died of advanced bladder cancer that had spread throughout his body and of multiple organ failure, Xinhua News Agency said.
Although retired, Xu was expelled from the party in June and his rank as general revoked. However, an indictment had not yet been announced and the Xinhua report said the criminal investigation against him would now be dropped because of his death.
In an online commentary, the official People's Liberation Army Daily newspaper called Xu the highest-ranking general in army history to be brought down by corruption.
"His reputation was shattered by corruption and his pathetic and shameful life came to an end in a hospital bed," the paper said.
Officials last year had been quoted as saying that Xu was ill and would get appropriate treatment, but also that the case against him would go forward, in a sign of Xi's determination to root out wrongdoing at all levels. In addition to being president and head of the party, Xi also chairs the powerful party and government commissions that oversee the 2.3 million-member People's Liberation Army.
Xu's death lends needed momentum to Xi's campaign against powerful corrupt officials, said Beijing-based historian and political analyst Zhang Lifan.
However, since Xi still faces a potential backlash against those entrenched interests, he "must speed up his pace," Zhang said.
Few details were ever released about the investigation into Xu, but Xinhua said he was accused of taking advantage of his position to promote people and had accepted "huge amounts of bribes personally and through his family."
Like most of China's leading generals, Xu never saw combat, serving almost his entire career as a political commissar before being appointed to the Central Military Commission in 1999. Under former president Hu Jintao, Xu was named one its three CMC vice chairmen, along with Xi, then serving as China's vice president. He stepped down from the commission when he retired from the military in 2012.
Phoenix Weekly, a Hong Kong-based magazine with strong military connections reported that large amounts of cash, jade, gems, paintings and rare antiques had been found in Xu's Beijing mansion. Such items are frequently used as bribes to avoid leaving a paper trail for investigators.
Much of the corruption in the military is believed to involve the selling of positions, seen as having a corrosive effect on military preparedness and morale.
Xu's downfall followed an investigation into another leading general, former logistics department chief Gu Junshan, who allegedly amassed a huge fortune through embezzlement, kickbacks and the selling of favors.
Xu and Gu were the most prominent of 16 high-ranking officers placed under investigation or convicted of corruption and abuse of power under Xi.