Former Taliban hostage buried food to save unborn children
A Canadian man held hostage by the Taliban for five years said he buried food underground to save his unborn children.
In an interview with Fox News, Joshua Boyle, 34, said his kidnappers poisoned his pregnant wife's meals with estrogen to force her to miscarry. Boyle and his family moved to Canada, where he is from, after they were rescued.
Boyle told Fox News one unborn baby was killed by the terrorists, who were members of the Haqqani network, and his wife delivered two babies while she they were in captivity.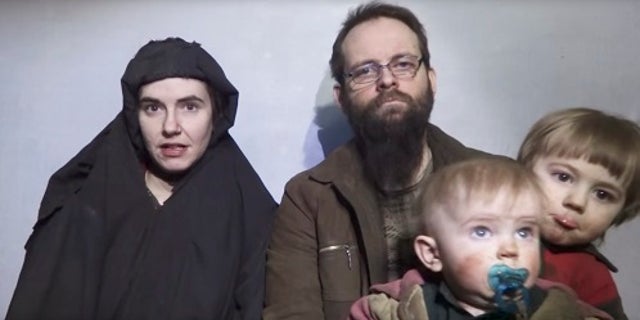 CAITLAN COLEMAN, AMERICAN WOMAN RELEASED WITH HER FAMILY IN PAKISTAN: WHO IS SHE?
But in order to make sure she carried to term, the couple kept her pregnancy a secret and buried their food underground to keep a safe supply.
His wife, Caitlan Coleman, 31, who claims she was raped many times by a guard, gave birth to three children while in captivity.
"The captors later told us after the forced abortion how it was done, which made it easier for us to avoid on the next two pregnancies," he said. "We buried 'safe' food in the dirt floor in some houses before she was pregnant."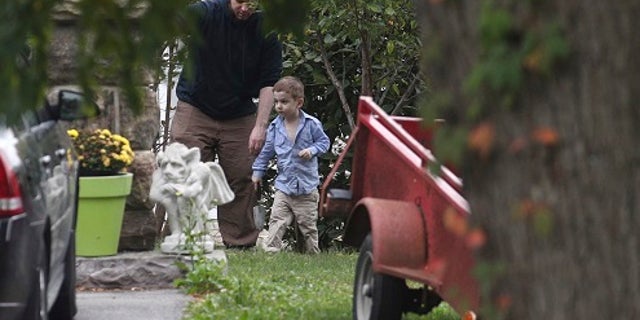 The couple tried to keep the pregnancies a secret but Boyle said that the militants became suspicious. Boyle delivered his second son and daughter by torchlight.
FORMER HOSTAGE CAITLAN COLEMAN RUSHED TO HOSPITAL, HUSBAND SAYS
Boyle and his family were rescued by Pakistani commandos three weeks ago along the Pakistan-Afghanistan border. The rescue operation ended a five-year ordeal for the couple, who say they were kidnapped in 2012 while hiking in Afghanistan during their honeymoon.
Boyle said there are still many questions that need to be answered. He questioned why Americans knew their location for years but never tried rescue them and also questioned the timing of the rescue, the fifth anniversary of when they were taken hostage.
"We are glad that we were finally rescued, on the fifth anniversary of our kidnapping, nonetheless," he said, "which indicates it was certainly not 'coincidence' - but a planned and rehearsed day for at least one of the parties involved."
Boyle said that while his kidnappers tried to force him to join the Haqqani network, he refused to do so.
"I have standards," he said. "It's what sets me apart from them."
He said because of his refusal to join the network, the kidnappers tried to kill his unborn babies. Boyle said they spiked his wife's food so they could force her to miscarry once they realized she was pregnant. The group has denied this claim, saying she miscarried naturally.
But Boyle said the kidnappers admitted to him what they had done.
The Haqqani network recruited Osama bin Laden in the 1980s and now runs the Taliban's lucrative kidnapping network. The Taliban said yesterday that the health of another American held by the Haqqanis, Kevin King, a university professor, was deteriorating.
The insurgents have threatened to kill King and his Australian colleague, Timothy Weekes, unless one of their senior commanders, Anas Haqqani, is released from death row in Afghanistan.
Boyle believes that, far from being religious zealots, the captors had little knowledge of Islam and were mere thugs.
"You could always tell when an actual Taliban representative had come to the prison compound because suddenly all of our remarkably secular, mercenary guards would be wearing black turbans and reciting Quran, something they never did unless there was a pious visitor," he said. "Their opposition is not based on religious fervor but a primitive love of blood sports, the desire to dominate, rape, kill and be feared."
Haroon Janjua is an award-winning Pakistan-based journalist who has reported on a wide range of political, military and economic developments.