Former President Jimmy Carter's center to observe Napal elections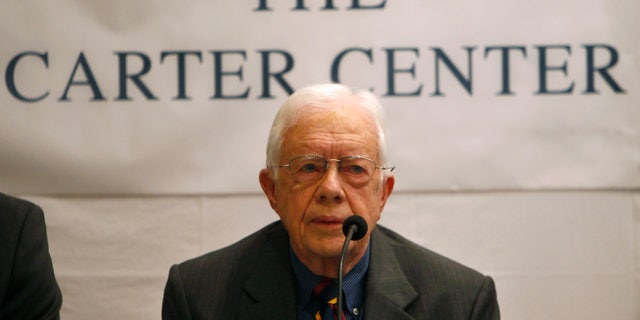 KATMANDU, Nepal – Former United States President Jimmy Carter said Monday that his Carter Center will observe elections in Nepal, although opposition parties are threatening to disrupt the vote and the government has been unable to set a date.
Carter, who arrived last week to meet political leaders, said he was asked by the government and political parties to observe the elections initially planned for June but expected to be postponed.
"We don't know yet when the election will be scheduled. It has been considered for the last week of June. I think it is the general consensus, which I share, it will not be possible at this point," Carter told reporters. "The election commission and the government will decide exactly when the election will be held and how long it will take. It will likely be after the monsoon season, perhaps in November."
A government was appointed by the main political parties last month under the chairmanship of the supreme court chief justice. Its main task was to conduct the election by June but it has so far been unable to fix a date.
Smaller political parties have threatened to disrupt the election, saying they want another government that would have representation from all the political parties to ensure free polls. Those smaller parties called for political demonstrations this week and a general strike on Sunday.
Carter said he heard that election workers who were collecting voters' names had been held captive for hours by supporters of those opposition parties.
"This violence to achieve political goal is completely contrary to the commitment the people of Nepal have made in the last five years," said Carter, who also met the leader of those groups.
Nepal has been struggling with political uncertainty since 2006 when street demonstrations forced then King Gyanendra to give up his authoritarian rule. The Constituent Assembly elected in 2008 abolished the centuries-old monarchy and converted the nation to a republic.
However, no single party was able to achieve a majority in the assembly and successive coalition governments have lasted only a few months.
The Carter Center observed the 2008 election.