Former News of the World Editors Arrested in U.K. Hacking Scandal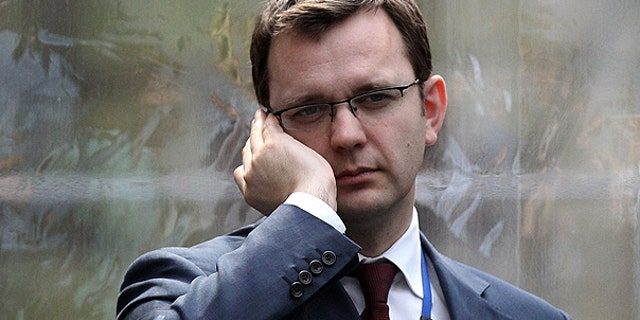 LONDON – Prime Minister David Cameron's former communications chief and an ex-royal reporter were arrested Friday in a phone hacking and police corruption scandal that has already toppled a major tabloid and rattled the cozy relationship between British politicians and the powerful Murdoch media empire.
The 168-year-old muckraking tabloid News of the World was shut down Thursday after being engulfed by allegations its journalists paid police for information and hacked into the phone messages of celebrities, young murder victims and even the grieving families of dead soldiers. Its last publication day is Sunday.
The hacking revelations horrified the nation and advertisers, who pulled their ads en masse. News International, the British arm of Rupert Murdoch's News Corp., jettisoned the paper in hopes of saving its $19 billion (12 billion pound) deal to take over satellite broadcaster British Sky Broadcasting. But the British government on Friday signaled the deal would be delayed due to the crisis.
Many expressed astonishment that 43-year-old Rebekah Brooks, who was editor of News of the World when some of the hacking allegedly occurred, was keeping her job while the paper's 200 staff were laid off.
The Murdoch group has shown, "an almost maniacal desire to protect Ms. Brooks at all costs," said industry analyst Claire Enders.
Brooks told the paper's soon-to-be-laid-off staff Friday that she was staying on as chief executive of News International, adding that the paper was "working hard to put our own house in order and do the right thing."
Brooks appeared to hint at revelations to come, telling the journalists that "in a year's time it'll become apparent why we did this," according to an audio recording of the meeting carried by Sky news.
However, News International announced after the meeting that Brooks had been removed from the paper's internal inquiry into the wrongdoing. Instead, the paper's standards committee will report to Joel Klein, a former New York City schools chancellor who now heads News Corp.'s education division.
The police investigation into the phone hacking drew uncomfortably close to the prime minister Friday with the arrest of Andy Coulson, Cameron's once-powerful communications chief and a former editor of News of the World.
Coulson, 43, was taken into custody Friday morning on suspicion of corruption and "conspiring to intercept communications." Hours later, he was released on bail until October. He refused to answer questions from reporters as he left a police station.
Police also arrested Clive Goodman, the former News of the World journalist who served a jail term in 2007 for hacking into the phones of royal aides. This time the arrest was on suspicion of making illegal payoffs to police for scoops. He was also later released on bail.
Detectives searched Coulson's house in London and Goodman's home south of the city in Surrey on Friday, as well as the newsroom of a second tabloid, the Daily Star Sunday. That paper is owned by Richard Desmond's Northern & Shell media conglomerate, and Goodman has done work for the paper since his release from jail.
The Daily Star Sunday said detectives spent two hours at its offices and took away a disc containing a record of Goodman's computer activity. The paper said there was "no suggestion whatsoever" that Goodman acted improperly during his time at the Star.
Late Friday, police announced that a third suspect, a 63-year-old man from Surrey, had been arrested for alleged payments to police and they were searching his home. His name was not released.
Allegations of phone hacking by the News of the World first surfaced more than five years ago, but the original police investigation -- which saw Goodman and another man jailed -- has now been criticized as incomplete and compromised by new bribery allegations.
The Metropolitan Police reopened the hacking inquiry earlier this year, and say they are looking at the names of over 4,000 people as possible victims.
Cameron, realizing that the crisis was knocking at his 10 Downing St. door, moved quickly to distance himself from it. Like predecessors including Labour Prime Ministers Gordon Brown and Tony Blair, Cameron courted the powerful Murdoch empire, whose endorsement is considered capable of swinging elections.
And he's not the first prime minister to hire a former journalist as his top communications aide -- Blair's powerful aide Alastair Campbell also had a tabloid background.
On Friday, Cameron acknowledged that British politicians and the press had become too close and promised investigations into both the tabloid's actions and future media regulation.
"The truth is, we've all been in this together," Cameron told reporters at a hastily arranged news conference. "Party leaders were so keen to win the support of newspapers that we turned a blind eye to the need to sort this issue. The people in power knew things weren't right but they didn't do enough quickly enough."
Coulson quit as editor of News of the World after Goodman and private investigator Glenn Mulcaire were jailed in 2007 for hacking into the phones of royal aides. Coulson maintained he knew nothing of the hacking, and was hired soon after as Cameron's director of communications, but resigned in January as it became clear the hacking at the tabloid had been widespread.
Opposition Labour Party leader Ed Miliband had urged Cameron to apologize for "the appalling error of judgment he made in hiring Andy Coulson." Cameron refused, saying Friday that Coulson remained a friend, but clearly moved a further step away from his former aide.
"(Coulson) gave me assurances," Cameron said. "He said he had resigned because of what had happened, but he didn't know the hacking had taken place."
"I took a conscious choice to give someone who had screwed up a second chance," Cameron said. "He worked for me, he worked for me well, but actually he decided in the end the second chance wouldn't work, he had to resign all over again for the first offense."
Cameron said press self-regulation by the Press Complaints Commission had failed and a new body, independent of the media and the government, was needed to properly enforce standards.
Cameron also suggested Brooks, who is a personal friend, should have resigned as chief executive of News International. He said there were also questions to be answered by James Murdoch, the heir-apparent to his father's media empire.
"I want everyone to be clear: Everything that has happened is going to be investigated," Cameron said.
He said a judge will be appointed to lead a thorough investigation of what went wrong at the News of the World, including alleged bribery of police officers, and a second inquiry to find a new way of regulating the press.
The scandal exploded this week after it was reported that the News of the World had hacked the mobile phone of 13-year-old murder victim Milly Dowler in 2002 while her family and police were desperately searching for her. News of the World operatives reportedly deleted some messages from the phone's voicemail, giving the girl's parents false hope that she was still alive.
That ignited public outrage far beyond any previous reaction to press intrusion into the lives of politicians and celebrities, which the paper has acknowledged and for which it has paid compensation to some prominent victims, including actress Sienna Miller.
Dozens of companies pulled their advertising from the paper this week, fearing they would be tainted by association. James Murdoch then announced Thursday that this Sunday's edition of the tabloid would be its last and all revenue from it will go to "good causes."
It's widely suspected News International will launch another paper into the Sunday market that has been dominated for decades by News of the World. Brooks said "no decision has been taken yet on any new publications or expanding existing ones."
But according to online records, an unnamed U.K. individual this week bought the rights to the domain name "sunonsunday.co.uk."
The British government gave its qualified approval in June to Murdoch's News Corp. purchasing the 61 percent of British Sky Broadcasting that it doesn't already own, on the condition it spins off news channel Sky News as a separate company.
But Culture Secretary Jeremy Hunt said Friday there had been a huge number of responses to a public consultation on the takeover, said to exceed 100,000 submissions, and that will delay the approval process.
Despite the public outcry, many analysts think Britain will still sanction the takeover but delay it until at least September.
A billion pounds ($1.6 billion) was wiped off the value of BSkyB Friday, with shares closing down 7.6 percent in London as investors recoiled at the bad news. Shares in the Nasdaq-listed News Corp., which owns 39 percent of BSkyB, were down 3.5 percent at $16.82 around midday in New York.