Former jail staffer heading behind bars for having sex with inmate in supply closet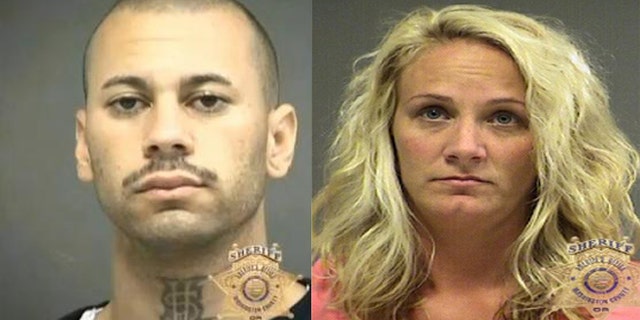 NEWYou can now listen to Fox News articles!
A married Oregon jail service technician has apologized after she was convicted of sexual misconduct for sneaking a gang member out of his jail cell and into a supply closet so she could have sex with him.
Jill Curry will spend four years and two months behind bars after pleading guilty to 29 counts, including first-and second-degree custodial sexual misconduct, but could get early release for good conduct.
A sobbing Curry appeared in court earlier this week before a Washington County judge and deputies, where she apologized for her marital mishap and for endangering her fellow workers by letting Jeng-Li Delgado-Galban, a maximum security inmate, out his jail for a little locked-up lovemaking.
"I exposed you guys to danger that I didn't even think about," she said to the deputies present in the courtroom, according to the New York Daily News. Curry said that her crumbling marriage and vulnerability led to her to cheat on her husband with a convict who sports a dollar sign neck tattoo.
"Being involved with a sociopath is like being brainwashed," she wrote in a statement, according to The Oregonian.
The judge, however, wasn't buying Curry's plea for forgiveness.
"I find that stupid and ludicrous," said presiding Judge Charles Bailey.
Surprisingly, this is not the only time a jail employee has been in trouble with the law for having sexual relations with an inmate at the Washington County jail.
Brett Robinson, a 32-year jail technician, goes on trial next month after she was arrested for allegedly having sexual relations with an inmate.
And who is that inmate, you ask? Why none other than the correctional facility Casanova himself, Jeng-Li Delgado-Galban.
There is no word yet if Delgado-Galban will face additional charges while in prison for stealing so many hearts.