Former Italian Prime Minister Berlusconi gets 4 years for tax evasion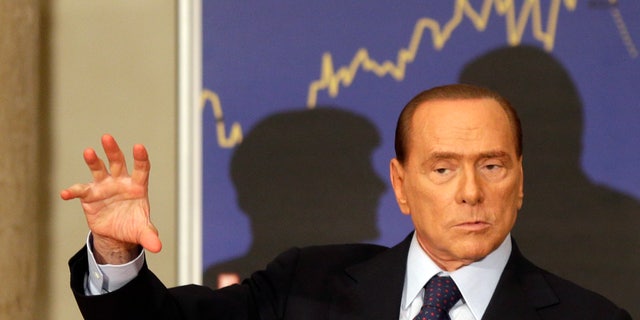 MILAN – A Milan court on Friday convicted former Premier Silvio Berlusconi of tax fraud and sentenced the media mogul to four years in prison -- a verdict that could see him barred from public office for five years.
The 76-year-old billionaire businessman -- who just two days ago said he would not run in Italy's spring election -- is expected to remain free until the appeals process is exhausted. In Italy, cases must pass two levels of appeal before verdicts are final.
Prosecutors had brought the case against Berlusconi and 10 other co-defendants over the purchase of rights to broadcast U.S. films on Berlusconi's Mediaset empire.
In addition to the prison sentence, the court said Berlusconi could not hold public office for five years or manage any company for three years, penalties that would take force only if the conviction is upheld.
"It is a political conviction that I can define perfectly well as incredible and intolerable," Berlusconi said in a phone call to his Italia 1 private network.
He denied that there was any connection between this case and his decision to step aside and allow another center-right candidate to seek the premiership.
"My lawyers and I never thought that such a conviction would be possible," he said.
Berlusconi has been convicted of lesser crimes in past trials, but they have always been thrown out on appeal. Other criminal investigations against him on charges including corruption have ended in acquittal or were thrown out because the statute of limitations had expired. He is also on trial in Milan on a charge of paying for sex with an underage Moroccan teen and trying to cover it up.
The court read its reasons for the fraud conviction immediately Friday, a rare event as judges have 90 days to write them. It's a sign they want to speed the case along to the appellate level before the charges expire -- sometime next year or in early 2014.
Berlusconi wasn't in the courtroom. In a statement, his lawyers denounced the verdict as `'absolutely incredible" and said they would appeal.
For nearly 20 years, Berlusconi has dominated the Italian political scene. His star began to lose its luster, however, after a sex scandal pushed him into another trial in the same Milan courthouse and the European debt crisis effectively forced him out of office last November.
Berlusconi's designated political heir as the head of the center-right party he leads, Angelino Alfano, blasted Friday's verdict as `'incomprehensible" and said he is confident an appeals court will throw out the conviction.
In this and other cases against him, the conservative Berlusconi has described himself as the innocent victim of prosecutors whom he contends sympathize with the left.
Prosecutors allege the 11 defendants were behind a scheme to purchase the rights to broadcast U.S. movies on Berlusconi's private television networks through a series of offshore companies and had falsely declared the payments to avoid taxes. They said the defendants then inflated the price for the TV rights of some 3,000 films as they relicensed them internally to Berlusconi's networks, pocketing the difference amounting to around euro250 million.
Berlusconi and three others were convicted, including a Hollywood producer, Frank Agrama, who received a three-year sentence.
Three other defendants were acquitted, including a close associate of Berlusconi's, Fedele Confalonieri, the chairman of Mediaset.
Four defendants were cleared because statute of limitations had run out on their charges.
Berlusconi and the three others convicted must deposit a total of euro10 million ($13 million) into a court-ordered fund while the appeals proceed.
In the other trial playing out in the Milan courthouse, Berlusconi is charged with paying for sex with an underage woman and trying to cover it up. He denies wrongdoing.
Berlusconi is not the first former Italian premier to be convicted on criminal charges.
Former Socialist Premier Bettino Craxi eluded an arrest warrant and turned up at his villa in Tunisia in 1994 after a court in Italy charged him in a massive corruption case. He was tried in absentia, convicted and sentenced to 8 1/2 years in prison. He never returned to Italy and died in exile. Craxi was considered Berlusconi's mentor thanks to his opening up Italy to private television from a state monopoly.
Former seven-time Christian Democrat premier, Giulio Andreotti, was convicted of involvement in a Mafia-murder but he was cleared on appeal and never went to jail.