Former chief of Bolivia drug police investigated for illicit enrichment, drug-trafficking ties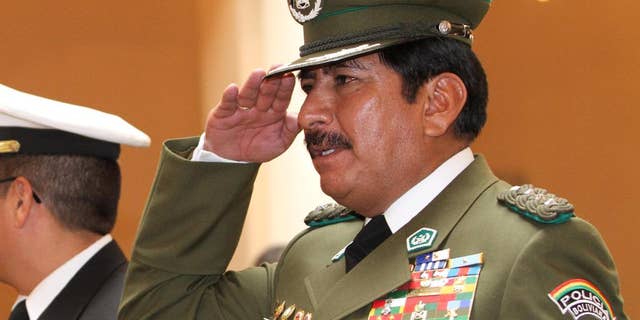 LA PAZ, Bolivia – The retired police general who ran Bolivia's counter-narcotics force after President Evo Morales expelled U.S. drug agents is under investigation for illicit enrichment and drug trafficking ties.
A judge was to decide whether Oscar Nina would be jailed after ordering his wife and two children jailed Wednesday for suspected money laundering.
Prosecutor Gomer Padilla said investigators discovered assets unsubstantiated by income. Their nature was not immediately disclosed.
Interior Minister Hugo Moldiz cited "serious suspicions" that Nina and his family were tied to drug trafficking.
Morales named Nina anti-drug police chief in January 2009 after expelling U.S. drug agents for allegedly inciting the opposition.
During Nina's tenure, former drug czar Gen. Rene Sanabria was arrested in Panama for cocaine trafficking. Sanabria is serving a 14-year sentence in the United States.