Former Australian leader wants nomination for UN top job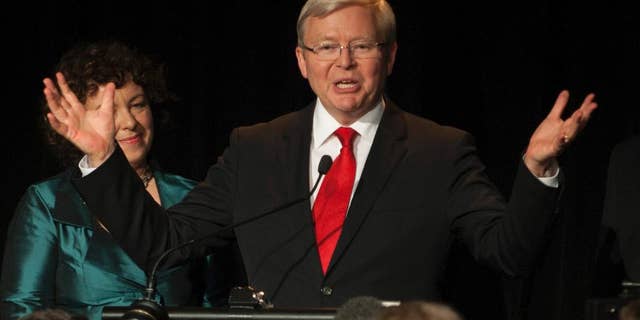 NEWYou can now listen to Fox News articles!
CANBERRA, Australia – An official says former Prime Minister Kevin Rudd has asked the Australian government to nominate him for the United Nations top job.
Foreign Minister Julie Bishop told Sky News TV on Monday that Rudd wants the government's endorsement to succeed U.N. Secretary-General Ban Ki-moon, whose second five-year term ends on Dec. 31.
She says that decision will be made by Australia's next cabinet, which will be named on Monday following July 2 elections.
Rudd is the New York-based president of the Asia Society Policy Institute. The 58-year-old was elected prime minister in 2007 but was dumped by his own center-left Labor Party in 2010. He was dubbed Recycled Rudd when he regained the control of the chaotic and divided government weeks before it lost elections in 2013.