Foreign ministers urge UN Security Council to spare veto in cases of mass atrocities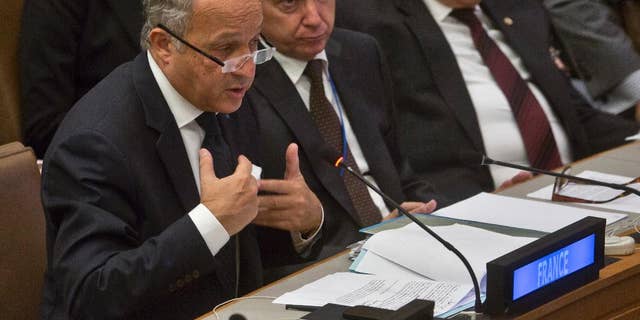 NEWYou can now listen to Fox News articles!
UNITED NATIONS – More than two dozen foreign ministers lined up Thursday to urge the often-deadlocked U.N. Security Council to avoid using veto power in matters that involve mass atrocities like genocide.
The United Nations' most powerful body has faced strong criticism as several resolutions on Syria's devastating civil war have been blocked by vetoes by permanent council members Russia and China.
Permanent council member France is proposing that the five veto-wielding members, also including the United States and Britain, voluntarily refrain from using the veto in what French Foreign Minister Laurent Fabius called "mass crimes."
"We cannot stay paralyzed," Fabius told the gathering. He urged an agreement by next year's 70th anniversary of the U.N.'s founding.
Russia's representative said the veto has repeatedly protected the council from "doubtful undertakings" and asked skeptically how Secretary-General Ban Ki-moon will determine what qualifies as a mass atrocity.
Neither Russia nor China sent its U.N. ambassador to the meeting, and China's representative suggested that council members "fully consult" with each other to keep disputed draft resolutions from reaching a vote.
British Ambassador Mark Lyall Grant expressed support for France's proposal to limit the veto, saying, "The UK is appalled by its recent abuse at the expense of millions of suffering civilians."
U.S. Ambassador Samantha Power did not express support specifically for the French proposal — the United States has used its veto power more than two dozen times on issues involving Israel — but she criticized the vetoes on Syria.
"We can even ask ourselves ... whether ISIL would have gained the foothold it has if the Security Council had been able to come together," Power said, using an acronym for the Islamic State extremist group that has seized huge parts of both Syria and Iraq.