For Assange, home comforts inside Ecuador embassy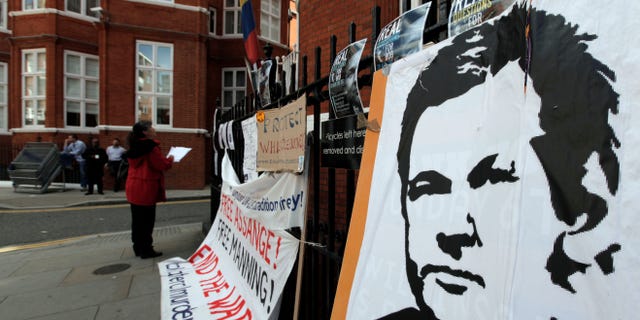 LONDON – Ecuadorean officials said Monday that their government is still considering whether to grant asylum to WikiLeaks founder Julian Assange, who walked into Ecuador's embassy in London on June 19 with a plea for refuge. Ecuador's leftist leader has long expressed sympathy for the 41-year-old Assange and his secret-spilling organization. Here are the basics on Assange's bizarre bid for sanctuary:
WHY IS JULIAN ASSANGE STILL HOLED UP IN ECUADOR'S EMBASSY?
The WikiLeaks chief wants to avoid extradition to Sweden for questioning about alleged sex crimes. He has spent the last two years contesting his removal through Britain's courts. After the Supreme Court rejected his appeal to reopen the case in June, Assange had exhausted his legal options in Britain. In response, he made his unlikely move to win political asylum in Ecuador.
ASSANGE INSISTS HE IS NOT GUILTY OF SEXUAL WRONGDOING, SO WHY DOESN'T HE JUST GO TO SWEDEN?
Assange insists that the attempt to send him to Sweden is simply the first step in a plan to fly him to the United States, where officials are investigating him and WikiLeaks over its disclosures of classified information. He claims he already faces a secret indictment in the United States. Many legal experts say it isn't clear why it would be easier to extradite Assange from Sweden than from Britain.
HOW IS ASSANGE LIVING INSIDE THE EMBASSY?
Assange is living and working pretty much as normal inside a small office that also serves as his bedroom. Supporters say he could continue to reside in the embassy, close to the world famous Harrods store in upscale Knightsbridge, for months. Gavin MacFadyen, a supporter and director of the Center for Investigative Journalism at London's City University, has visited Assange inside the building and says that while "it's not quite the Hilton," embassy staffers are "jolly" and getting along well with the activist. The embassy has about five or six rooms and previously was used as a single apartment. Assange has a bed, access to a phone and a connection to the Internet. He can also receive guests, though the space is cramped. The crowded embassy is in sharp contrast to Assange's last permanent address — Ellingham Hall, a supporter's elegant country house on vast grounds in eastern England.
WHAT IS TAKING ECUADOR SO LONG TO DECIDE?
Ecuador's ambassador to London, Anna Alban, flew to Quito on June 23 to personally brief President Rafael Correa on the case, raising expectations of a speedy resolution. Since then, however, Ecuador has said little publicly over the affair. Ecuador's foreign ministry says lawyers are studying the political and legal implications of granting Assange asylum. Embassy spokeswoman Priscilla Kohn said Monday that it simply wasn't possible to say when the case would finally be decided.
WHAT HAPPENS IF ASSANGE LEAVES THE EMBASSY?
Assange has ignored a letter from Scotland Yard demanding that he report to a police station as the first step in his planned removal to Sweden. He insists that his asylum case takes legal precedence. British police can't arrest Assange while he remains inside the red-brick embassy because diplomatic protocol prevents them from entering, but if he steps outside, they will be ready to swoop. Assange has been told he will be arrested for breaching the terms of his bail, which included an overnight curfew at a registered address. On Saturday, a court-imposed deadline for Assange to be sent to Sweden passed.