Florida's Jobless Benefit Application Violates Civil Rights, Feds Say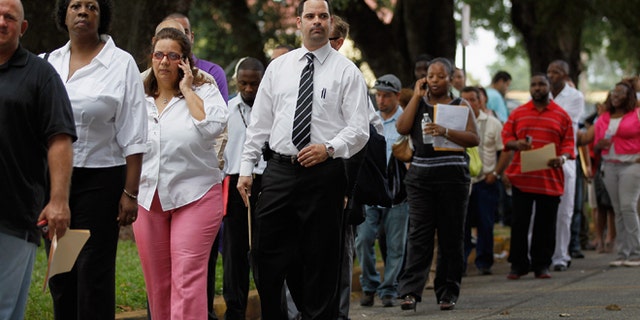 When Florida lawmakers voted in 2011 to require all unemployment insurance claims to be filed online, they weren't thinking about Dianelys Corrales Leon.
Corrales Leon, who speaks limited English, lives in Palm Springs and was working at a struggling local daycare center when she was laid off to cut costs. After losing her job, Corrales Leon, 49, walked into a state-run career center to apply for unemployment benefits, where she claims she was seated in front of a computer, told to fill out an online application and take a test in English that she didn't fully comprehend. She was later denied much-needed jobless benefits.
"I remember clicking on the pages, but I did not understand what the pages were telling me," Corrales Leon said.
Now, the state of Florida must improve access to unemployment benefits for people with disabilities or limited English proficiency, according to the Department of Labor, which found the state's online application system led to many unemployed minorities and disabled people to go without needed financial support.
In a decision that could impact other state's looking to move to a more paperless system to distribute unemployment benefits, the DOL sided with advocates on Thursday, issuing an initial determination that said the state's online application and test requirement violated federal civil rights and anti-discrimination laws.
Problems began in August 2011 after Florida legislators voted to require all unemployment insurance claims to be filed online – eliminating phone filing and paper applications. Under the new law, applicants must also complete a 45-question skills assessment – online – that tests skills in reading, math and English.
Advocates, such as the Miami Workers Center, allege that Florida's online application system "wrongfully excluded" applicants who do not know English as a primary language or those with a disability. One in four Floridians speak a language other than English at home, according to the Census, and four in 10 Floridians work with some sort of disability.
"All workers, regardless of their primary language or national origin or even just limited computer skills, have a legal right to expect that their state will not turn the process of applying for unemployment insurance into an electronic obstacle course," said George Wentworth, senior staff attorney with the National Employment Law Project, in a statement.
The state of Florida has told the Miami Workers Center and other advocates that it will agree to enter into negotiations to change the online filing requirements to make them more accessible to everyone.
Florida's Department of Economic Opportunity, which administers the jobless benefits programs, defended its online system as "conformed to federal law and regulations" and said they were working to improve jobless aid.
Those who claimed unemployment benefits in Florida were paid an average of $231 a week in 2012 – ranking third lowest in the nation, behind Alabama and Mississippi. Only 17 percent of Florida's unemployed are receiving unemployed insurance benefits – ranking last in the nation.
The investigation by the Department of Labor found that English information on the Florida's Department of Economic Opportunity website was not translated correctly into Creole or Spanish and there was no sufficient phone help for those looking for help from a live person. It also found that while applying for jobless benefits, there was no proper notice that people could be exempt from the skills review, such as those with disabilities who could not take the skills test on a computer.
Florida has until May 28 to voluntarily fix the current system or face civil a fine by the U.S. Attorney General's office, which could cut federal funding for the state's unemployment program.
The Department of Labor has offered guidelines to help remedy the situation, such as retroactive benefits to people with language and disability barriers that were unable to get benefits because of the current online system.
Follow us on twitter.com/foxnewslatino
Like us at facebook.com/foxnewslatino