Flooding may force 100,000 from west Canada homes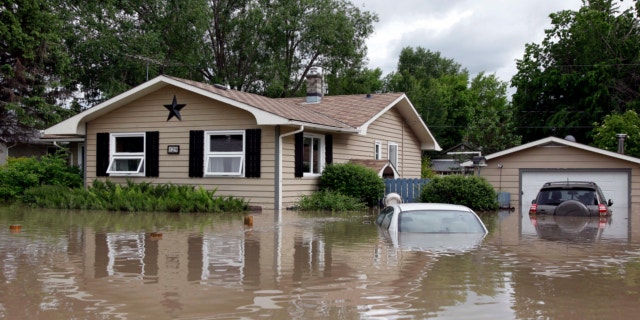 HIGHWOOD RIVER, Calgary – As many as 100,000 people could be forced from their homes by heavy flooding in western Canada, Calgary city officials said, while mudslides forced the closure of the Trans-Canada Highway, isolating the mountain resort towns of Banff and Canmore.
Torrential rains and widespread flooding throughout southern Alberta on Thursday washed out roads and bridges, left at least one person missing and caused cars, couches and refrigerators to float away. Communities were hit hard just south of Calgary, a city of more than a million people that hosted the 1988 Winter Olympics.
Officials said the evacuation would take place in stages over the next few days. The province reported that 12 communities were under states of emergency.
One woman who had been stranded on top of a trailer was missing after it was swept away, STARS air ambulance spokesman Cam Heke said.
Motorists who were trapped overnight Wednesday by water spilling over Canada's main western highway had to be rescued by helicopter, Town of Canmore spokeswoman Sally Caudill said.
"I woke up at about three o'clock in morning to the sound of this kind of rumbling, and it was the creek," said Wade Graham, a resident of Canmore. "At first it was just intense, pretty powerful, amazing thing to watch. As daylight came, it just got bigger and bigger and wider and wider, and it's still getting bigger and bigger and wider and wider."
He added, "I watched a refrigerator go by, I watched a shed go by, I watched couches go by. It's insane."
Bruce Burrell, director of the Calgary Emergency Management Agency, said water levels on the Bow River aren't expected to subside until Saturday afternoon. The Bow River Basin already has been battered with up to 100 mm (3.9 inches) of rain.
"Depending on the extent of flooding we experience overnight, there may be areas of the city where people are not going to be able to get into until the weekend," he told a news conference.
In High River, Mounties asked people with motorboats to help rescue at least a dozen stranded homeowners.
"We have people on their rooftops who were unable to evacuate fast enough," said RCMP Sgt. Patricia Neely.
Environment Canada issued a rainfall warning for the affected areas, estimating as much as 100 millimetres more rain could fall in the next two days.