Flight attendants in Germany launch 24-hour strike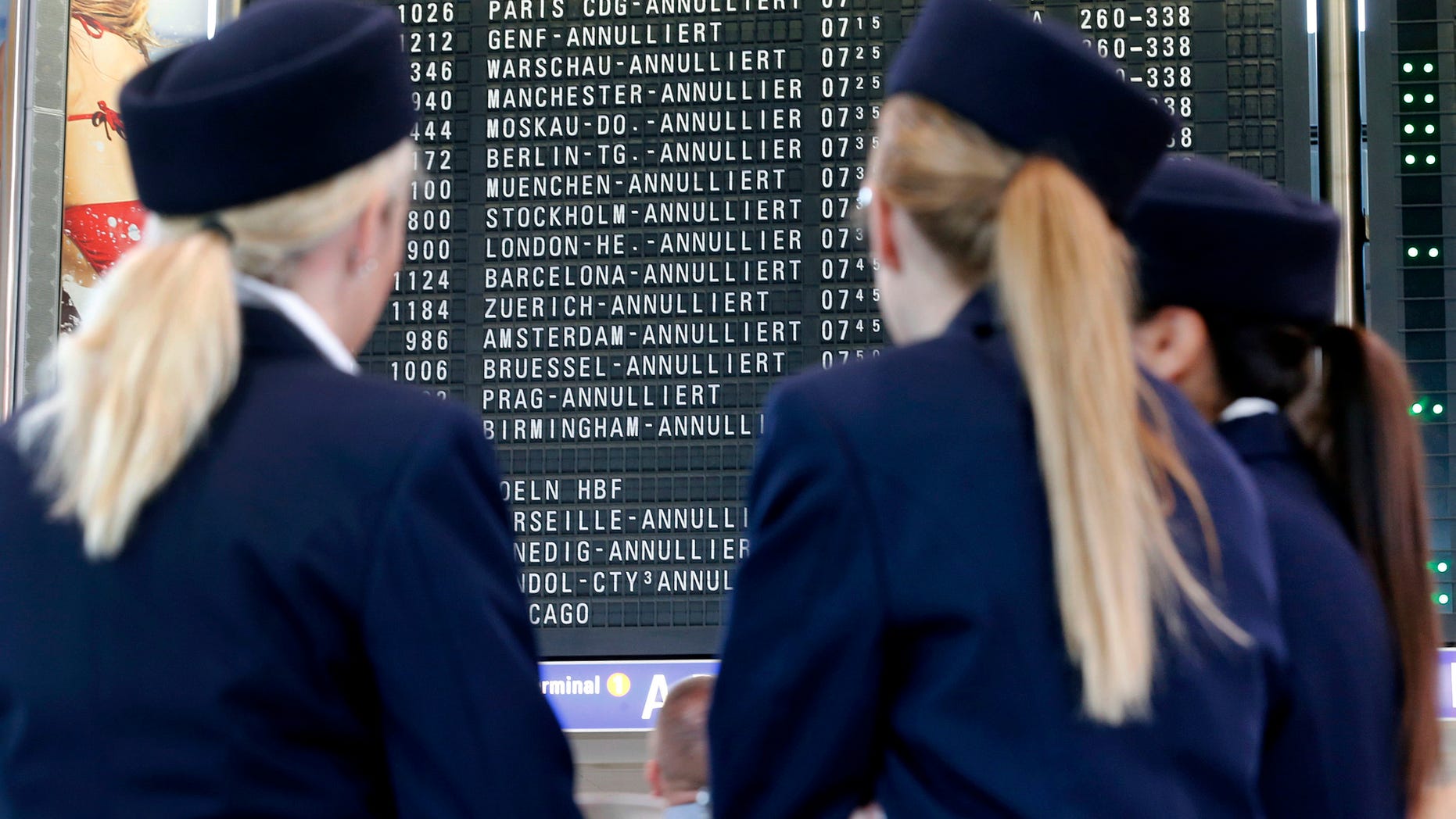 Lufthansa canceled hundreds of flights Friday after flight attendants walked off the job at airports around the country in an escalating battle with Germany's largest airline, but signs emerged that the two sides may be prepared to return to the negotiating table.
The flight attendants started their 24-hour walkout midnight Thursday in a battle with the airline, which is struggling to compete against European budget carriers and government-owned airlines from the Persian Gulf.
The strike was the most extensive of three work stoppages over the past week after 13 months of contract negotiations broke down over differences in pay, and union demands that the airline agrees not to outsource jobs or employ temporary cabin crew employees.
UFO union chairman Nicoley Baublies told The Associated Press at Frankfurt airport that he had talked on the phone with Lufthansa during the night, and that the two sides had agreed to call in a mediator to help them settle their dispute. Baublies also said the union was not going to stage any more strikes immediately, saying they were calling a "pause for Lufthansa to think things over."
"It seems that they have now realized we stand united, they have more or less waved the white flag, so we must now get back into talks," he said, adding that the two sides planned on getting together to talk further.
Lufthansa spokesman Klaus Walther refused to comment on the possibility of a mediator, however, and downplayed the idea of negotiations resuming soon.
"There is contact, there has been contact, and there will be contact," he said at Frankfurt airport.
Lufthansa offered a concession later Friday, saying that it would stop using flight attendants on outside contracts in Berlin -- one thing UFO has objected to -- and would offer those attendants Lufthansa staff status next year. CEO Christoph Franz said that was "a big step" and that he hoped it would help the union to enter "constructive talks."
Limited walkouts Tuesday at airports in Frankfurt, Munich and Berlin followed the launch of the flight attendants' strike campaign last Friday. The latest stoppage involved crews at all German airports Lufthansa serves.
Lufthansa spokeswoman Claudia Lange said the airline had to cancel "about half" of its 1,800 flights because of the strike -- fewer than initially expected.
While the earlier walkouts were called with only six hours' notice, causing huge lineups and chaos at the airport terminals. Lufthansa had longer to prepare for Friday's strike.
It canceled flights well in advance and the scene at the airports was calmer than on previous strike days. Nonetheless, some passengers did have to deal with delays, cancelations and other inconveniences.
"I managed to get from Istanbul to Berlin and I was told I might have to stay overnight in Berlin," said Matt Haze at the capital's Tegel airport, who was on his way home to Calgary. "But luckily at the Lufthansa desk over there they found me something on Air Berlin, so they are going to get me back to Canada today."
The union is demanding a 5 percent pay raise for more than 18,000 cabin staff. Lufthansa is offering a 3.5 percent boost and is calling for a slight increase in working hours.
"We are highly motivated because we are all very angry," said flight attendant Karin Puttgereit. "This is really the first time we, the cabin crews, are on strike."
Lufthansa is trying to implement a far-reaching cost-cutting reduction program to cope with rising fuel prices as well as vigorous competition from European discount carriers and the big Gulf airlines such as Emirates, Qatar Airways and Etihad Airways. The Gulf giants are challenging Lufthansa and other major European carriers especially in lucrative routes between Europe and East Asia.
Lufthansa aims to improve the company's operating profit by euro1.5 billion (1.9 billion) compared to 2011 by the end of 2014.
The union objects to what it says would be only gradual pay increases and lower salaries for new employees. The union is also worried about the possibility that Lufthansa will transfer flight attendants to its partner budget airlines with lower contracts.