Five soldiers rescued from massive avalanche have died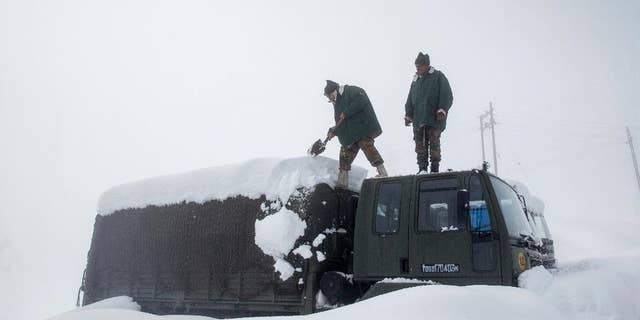 SRINAGAR, India – Five Indian soldiers rescued last week from snow that caved in on them as they patrolled along the highly militarized Line of Control that divides Kashmir between India and Pakistan died Monday, the army said.
Indian army spokesman Col. Rajesh Kalia said the soldiers died after they were flown from the frontier area of Machil to the region's main city of Srinagar for specialized treatment.
TWO CREW MEMBERS FROM MISSING BOAT CARRYING 31 REACH SAFETY
Kalia said army helicopters earlier failed multiple times to bring the soldiers to the army's base hospital in Srinagar because of hostile weather after their rescue Saturday.
Last week, 15 Indian soldiers and five civilians, including four members of a family, were killed when avalanches hit military posts, patrols and homes in Kashmir.
Heavy snowfall has cut off roads and disrupted power and communications in Kashmir, and authorities have issued avalanche warnings in many areas, especially along the de facto frontier. Hundreds of residents have been evacuated from high-risk areas.
Avalanches and landslides have caused some of the heaviest casualty tolls for the Indian and Pakistani armies camped near the Line of Control.
In 2012, a massive avalanche in the Pakistan-controlled part killed 140 people, including 129 Pakistani soldiers.