Five Arizona teens charged with plotting classmate's murder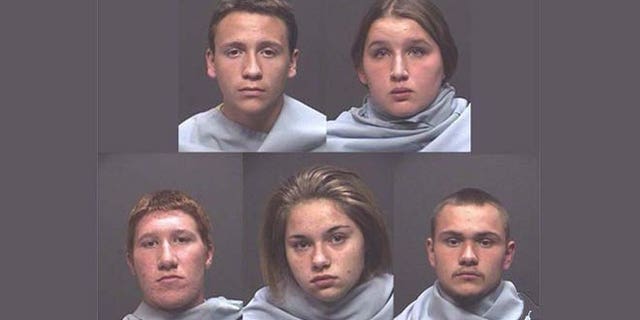 NEWYou can now listen to Fox News articles!
TUSCON, AZ – The teenagers would get together before school and at lunch to talk about a group project: the murder of a classmate, said police in Tuscon, Arizona.
But the plot fell apart when another teenager told police about the plot, police said.
The five students at Flowing Wells High were charged with conspiracy to commit murder in the first degree, said police spokesman Sgt. Pete Dugan.
One of the students is 18. The others are juveniles — two 17-year-old girls and two 15-year-old boys — but will be prosecuted as adults, Dugan said.
School administrators called police Wednesday when a different student came forward to describe the plan and say that someone had brought a knife to campus, Dugan said.
Administrators found the student with the weapon before police arrived, Dugan said.
"Detectives determined that not only was there a plan but the five students accused would meet in the mornings and at lunch to discuss the details of the plan," Dugan said.
"Each meeting got further involved in the planning process, and the last meeting was when they decided to bring the weapon. They had even decided where the murder would take place, somewhere off campus. These meetings went on for about a week."
The five students knew the target, Dugan sid.
"It was not a random act," Dugan said. "They were targeting someone who hung out in the same group as them. Someone they were having problems with and decided to kill."
Charged and booked into the Pima County Jail were Christopher Gibson, 18; Anastasia Lakin and Jessica Good, both 17; and Gabriel Quiroga, and Andrew Totten, both 15. All are in custody, Dugan said.
"We were able to stop it before it happened, and it was to the point where we thought it would happen," says Dugan.
Read more at Fox2now