Fist fight led to bus plunging into China river, police say
A security footage from a bus that plunged into a river in China on Sunday revealed a fist fight between the driver and a passenger ultimately led to the vehicle's doom.
The video shows the driver and the passenger attacking each other as the vehicle turns into the opposite lane, hits the guardrail and falls off a bridge over the Yangtze River and into the water.
The fight was the cause of the crash, police said, according to China's state newspaper People's Daily.
The passenger, only identified as a 48-year-old woman with the surname Liu, was angry at the driver for missing her stop, police said. She went to hit the driver, who was identified as Ran, with her phone, police said.
Witnesses said they saw the bus swerve over to the other side of the road before hitting the barrier and falling into the river, according to BBC.
Chongquing police also released dashcam video from a nearby car showing the bus crash.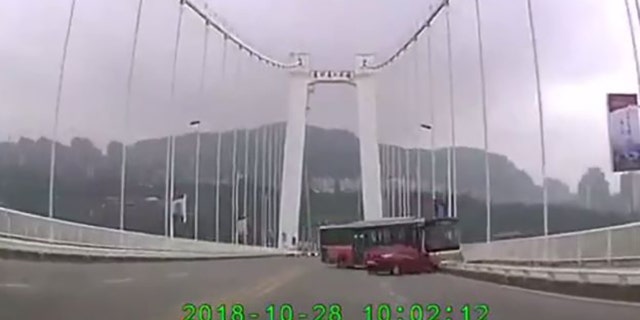 The crash launched a major rescue operation. China's Ministry of Emergency Management said the local fire service had deployed 50 firefighters, five fire engines and two rescue boats to the scene, according to the South China Morning Post.
Officials said more than a dozen people were on the bus at the time of the crash. Thirteen bodies have been found and two were still missing, according to the Xinhua News Agency.
Fox News' Christopher Carbone and the Associated Press contributed to this report.