Fish consumption around the globe is up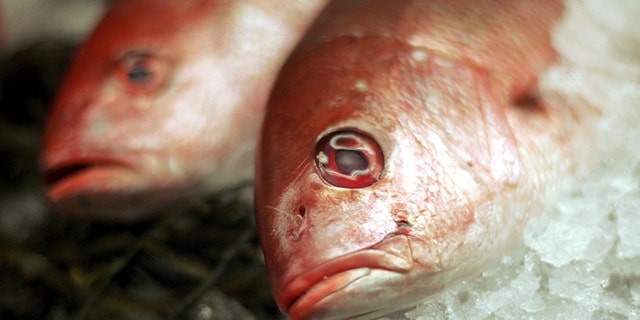 NEWYou can now listen to Fox News articles!
UNITED NATIONS (AP) – People around the world are eating more fish and global per capita fish consumption topped 20 kilograms (44 pounds) a year for the first time in 2014, according to preliminary estimates in a U.N. report released Thursday.
The Food and Agriculture Organization report said the record consumption, which appears to have continued in 2015, is the result of increased supplies from fish farming, growing demand linked to population growth, reduced wastage, rising incomes and urbanization, and a slight improvement in some fish stocks.
According to The State of World Fisheries and Aquaculture 2016, world per capita fish consumption increased from an average of 9.9 kilograms (21.8 pounds) in the 1960s to 14.4 kilograms (31.7 pounds) in the 1990s, 19.7 kilograms (43.3 pounds) in 2013 and 20.1 kilograms (44.2 pounds) in 2014.
FAO Director-General Jose Graziano da Silva said fish farming or aquaculture — using coastal net pens or ponds to raise freshwater and saltwater species — now provides half of all fish for human consumption.
China has played a major role in the growth of fish farming, accounting for 60 percent of world aquaculture production, the report said.
On a negative note, the report said "the state of the world's marine fish stocks has not improved" despite notable progress in some areas.
It said almost a third of commercial fish stocks are now fished at biologically unsustainable levels, triple the level of 1974.
Global total production from fishing in 2014 was 93.4 million tons — 81.5 million tons from marine waters and 11.9 million tons from inland waters, the report said. China was the largest marine producer followed by Indonesia, the United States and Russia.
For the first time since 1998, anchovy was not the top-ranked catch in 2014, falling below Alaska pollock, the report said.
Anchovy catches in Peru fell to 2.3 million tons in 2014 — half the amount in 2013 and the lowest level since a strong El Nino in 1998 — but the report said production recovered in 2015 to more than 3.6 million tons.
Graziano da Silva said recent reports by experts, international organizations, industry and civil society "highlight the tremendous potential of the oceans and inland waters now, and even more so in the future, to contribute significantly to food security and adequate nutrition for a global population expected to reach 9.7 billion by 2050."
He welcomed the entry into force on June 5 of an FAO agreement "to prevent, deter and eliminate illegal, unreported and unregulated fishing" which, among other things, allows a country to ban ships it suspects of having engaged in illicit fishing, thereby preventing their catches from getting to markets.
Illicit fishing may account for up to 26 million tons of fish a year, or more than 15 percent of the world's total annual marine and inland fishing output, Graziano da Silva said.