First Ever Guatemalan Band in Macy's Parade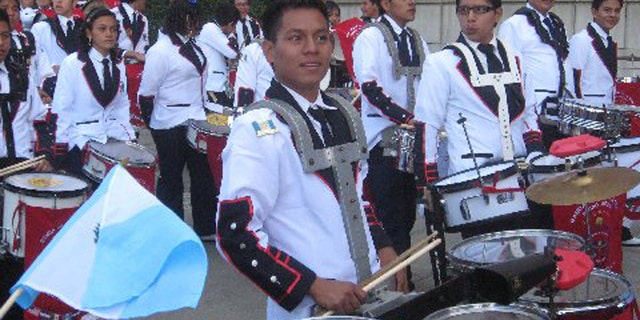 Two hundred and forty Guatemalans will have a day of "firsts" on Thanksgiving Day. As members of the Pedro Molina Latin Band, they will be the first Latin American and first Guatemalan marching and Latino music band to ever participate in the Macy's Thanksgiving Day Parade since its creation 86 years ago.
The youngest musicians are 12; the oldest are 25—they stayed in the band after graduating from the high-school after which the band was named, in the Guatemalan town of Coatepeque. The band arrived in the United States last week (sponsored by government and private donations), after travelling 3,550 miles for its November 25 appearance. This will be its second participation in major U.S. parade after playing at the Rose Parade, in Pasadena, California, last January.
"After the Rose Parade, our dream come true, the Macy's Parade was the next big challenge," Edwin Monterroso, the band's musical director, told Fox News Latino.
They originally had a 2011 participation in mind; the online application they filled out last February required applying one year in advance. The requested documents and videos—mostly of their Rose Parade participation—were brought to New York, in person, by the band's director, Patricia Hernández de Boiton.
According to Monterroso, the parade's organizers were impressed with the band's record (four Central American championship titles and tours in México).
"Our repertoire caught their attention, and in late April they notified us that our participation was approved for this year," he said. "The band was selected among thousands; we put on a show."
The Pedro Molina Latino Band has existed since 1982, but began performing Latin American music (cumbia, merengue, salsa) in 2005. On Thanksgiving Day, it will have one minute and 15 seconds at the 34th Street stop—a slot exclusive for U.S. bands—to display the reasons why the parade organizers only took two months to select it.
Home away from home
The Guatemalan community has rallied around the band. In Stamford (CT), several families housed 200 hundred musicians, while 40 others were lodged at the Yerwood Community and Youth Center. The Quetzal Group and Folgua, both Guatemalan organizations, made these arrangements and organized fund-raising activities to cover the band's expenses, such as a concert at the Saint Michael Church in Brooklyn on November 24.
Guatemala's consul in New York, Rosa María Mérida, claimed that the whole community mobilized to help. In the meantime, there has been one thing on Monterroso's mind.
"God has given us the opportunity to come this far to represent Guatemala," he said.
Follow us on twitter.com/foxnewslatino
Like us at facebook.com/foxnewslatino