Filmmaker's email claimed BBC 'policy' barred him from revealing hundreds of living Nazis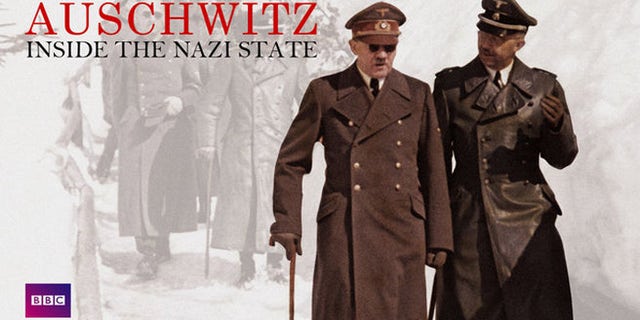 A leading Nazi-era expert working on a landmark BBC documentary about Auschwitz located "hundreds" of still-living former guards and other workers of the death camp – but refused to turn their names over to prosecutors, citing the British broadcasting giant's "policy" of confidentiality, FoxNews.com has learned.
The names surfaced during the making of "Auschwitz: The Nazis and 'The Final Solution," a six-part series that tells how the Third Reich put more than one million Jews and other Nazi-designated "inferiors" to death at the camp during World War II. Researchers who worked on the 2005 documentary later boasted of finding hundreds of former Nazis still alive and mostly living in Germany - men who may have been guilty of war crimes while guarding the infamous concentration camp. Literature promoting the series, including a book about it, touted the painstaking work done to find living Nazis who escaped justice.
"It's an extraordinary testament to the research staff that we have found a number of people who actually openly talk about participating in the killing process," wrote the documentary's writer and producer, Laurence Rees, former head of BBC TV history programs.
The documentary, aired in the U.S. under the title "Auschwitz: Inside the Nazi State," noted that of the 7,000 members of the SS who worked at Auschwitz and who survived the war, fewer than 800 were ever put on trial. Those still alive could have - and could still - face prosecution despite likely being in their 90s, but Frank Stucke, one of the primary researchers for the documentary said in a 2006 e-mail obtained by FoxNews.com that disclosing the names of the potential war criminals was against BBC rules.
"People who make films don't think they have any obligation to help bring (perpetrators) to justice."
"Unfortunately, I cannot pass on data of my research work," he wrote. "It would be against BBC policy to give away names of witnesses, because then we would never get any interviewees anymore."
Stucke's refusal was in response to a query from a U.S. citizen who'd met the Berlin-based researcher in Germany while working on an unrelated documentary for Discovery Channel. The American, who asked not to be identified, had pointed out to Stucke that the names would aid the Simon Wiesenthal Center's ongoing Nazi-hunting efforts, and offered to connect Stucke with "individuals" responsible for the investigation of Nazi crimes.
A senior official with the German agency, which was established in 1958, told FoxNews.com that it never subsequently received any list of "hundreds" of suspects from the BBC.
Efraim Zuroff, the Wiesenthal Center's chief Nazi hunter, expressed outrage that names may have been held back, pointing out that many of the Auschwitz personnel identified for the BBC series would now be dead.
"People who make films don't think they have any obligation to help bring (perpetrators) to justice," he said. "They are only interested in art, not in justice."
The documentary received critical acclaim and garnered several prestigious awards. Joining the BBC as major funders were PBS and the U.S. taxpayer-funded Corporation for Public Broadcasting. France, Spain, Poland and Germany also aired the series, which includes the prestigious British documentary prize – the Grierson Award – among honors, and won for Rees the Historical Film of the Year award from History Today magazine.
Rees says in a video promoting his companion book to the series that locating Nazi perpetrators had been central to the overall project.
"What really interests me primarily is the mentality and motivation of the killers," Rees explains in the video, posted on his Web site.
On the PBS site, he says: "Over the years we've developed a large number of contacts, particularly through the archives in the East, which enabled us to approach these people," he says. "It's incredibly labor intensive and incredibly expensive. In order to find one perpetrator, one person who pulls the trigger and shoots people, researchers have to go through the original SS records and trawl through thousands and thousands of names. They've got to compare them against trial records. They've often got to go to the Russian archives to see whether any of these people were prosecuted. Then they've got to go through phone books in Germany. They've got to try and trace relatives and so on…"
But asked recently to comment on what happened to the haul of names, Rees told FoxNews.com he has never refused any request to cooperate with the authorities. And in a departure from previous claims made to promote the effort, he downplayed the result of the meticulous research that went into the film.
"I have always cooperated fully with German authorities, when asked, over the prosecution of suspected war criminals, and will continue to do so," he said in an e-mail. "I passionately believe in bringing such people to justice whenever possible. Indeed, if you read the conclusion of my book on Auschwitz, you will see how strongly I criticize the lack of prosecution of members of the SS at Auschwitz after the war and call it 'a collective failure of the international community.'"
For its part, the BBC – denying it withheld such a large number of names – said the German authorities would have already been aware of "virtually all" of them.
"It is simply wrong to assert that the BBC could possibly be withholding information of use to German prosecutors on "hundreds" of former members of the SS who worked at Auschwitz," an unnamed spokesperson for the broadcaster said in its emailed statement. "Not least because virtually all of the names of former members of the SS at Auschwitz that the BBC learnt about in the course of making the 2005 series were gained from studying the files of the German authorities. So the German authorities knew of these people before the BBC did."
In his 2006 email, Stucke also dismissed the notion that the names he had collected would be of interest to the German authorities.
"I think it is not too tragic, because these people are known somehow to the German justice, because they had been as witnesses on trials or had been accused or sentenced if possible," Stucke wrote. "So if there would have been possibilities to sentence them, it would have happened (sic)."
Thomas Will, deputy head of the German Central Office for the investigation of Nazi crimes, said he had been told the BBC had accessed the office's enormous bank of names of war-crimes suspects who, for one reason or another, had not been prosecuted over the years. But he added that additional information is continually sought.
"We want every name that can get us to a prosecution…" Will said. "We are looking at every name even if we know 99 percent of the names we newly get."
He added: "Let it be one that we do not know" and the effort will have been a success.
Will said any cooperation from the BBC following the 2005 documentary "would be known" if it had occurred.
In an interview with FoxNews.com, Stucke said a lot of "hard work" had enabled him to gather so many names.
"I found hundreds of people all over Germany who worked there (as) guards or (who) were somehow involved in Auschwitz," he said.
"That was in 2003 … people were very old then, and I don't know how many of them will be alive at the moment."
Questioned further, Stucke refused comment on what he did – or should now do – with the names.
Later, in an email sent via the BBC, Stucke downplayed his discoveries and said the BBC never stopped him from turning information on Nazis over to the German government.
"I do not have a list of "hundreds" of names of SS who were in Auschwitz that are not known to German prosecutors." He also denied that the BBC had "in someway (sic) prevented me" from passing on such a list to German prosecutors. "That is just not true."
Scrutinizing still-living war crimes suspects took on increased importance in 2011 with the conviction in Germany of Ukrainian-born John Demjanjuk, a former guard at the Sobibor death camp in Nazi-occupied Poland. The case set a precedent for lowering the legal threshold necessary to win a conviction – from having to prove responsibility for a crime to simply being knowingly present as a worker of a death camp, and, therefore, a part of the facilitating machinery for mass murder. That change would likely have made many of those on Stucke's alleged list eligible for sure prosecution.
"There was a full-scale revolution in terms of German prosecution policy," said Zuroff. "Before, you had to prove that somebody had committed murder, or had committed a specific crime. Now it's enough to prove (that the person) served in a death camp – and Auschwitz was certainly a death camp."
One central figure who agreed to be interviewed on camera for the documentary was former SS Sgt. Oskar Groening, who was responsible for processing the valuables stolen from arrivals at Auschwitz after they descended from the transport trains.
Now 93, he will stand trial in April after being found fit to do so last March, and charged last September with accessory to the murder of 300,000 Jews dispatched to Auschwitz during the Nazis' so-called Hungary Operation.
Groening is one of the few former SS guards to have spoken out to counter Holocaust deniers. He says he is legally innocent of any direct wrongdoing.
Steven Edwards is a New York-based investigative journalist. Follow him on Twitter @stevenmedwards