Fighting in Nigeria Ahead of Election Result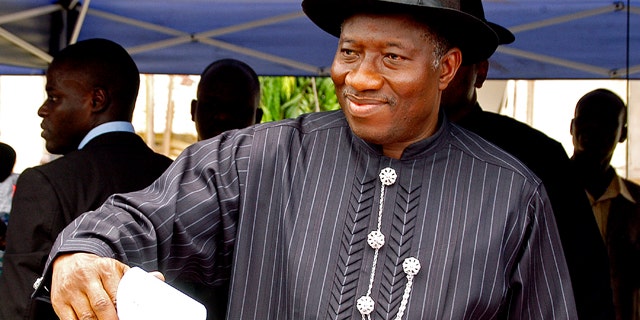 ABUJA, Nigeria -- Angry opposition supporters in Nigeria's Muslim north set fire to homes bearing ruling party banners Monday as election officials released results showing the Christian incumbent had gained an insurmountable lead.
Results were still pending in five states from Saturday's election but tallies released live on national television indicated President Goodluck Jonathan had garnered enough votes to ensure his victory. The Muslim north had largely voted for former military ruler Muhammadu Buhari.
Witnesses said youths in the northern city of Kano were setting fires to homes that bore Jonathan party banners. Heavy gunfire also could be heard. An Associated Press reporter there saw hundreds of youths carrying wooden planks in the street, shouting "Only Buhari" in the local Hausa language.
In Kaduna, home to the oil-rich nation's vice president, angry young men burned tires in the streets and threw stones at police and soldiers trying to restore order, witnesses said.
"Right now, I'm holed up in my room. There's gunshots everywhere," said Shehu Sani, a civil rights leader. "They are firing and killing people on the street."
Olusola Amore, a federal police spokesman, declined to comment. Kaduna state police spokesman Aminu Lawal described the fighting there as an "uprising."
Kaduna is located in Nigeria's middle belt where Christians and Muslims live together uneasily, and where a bomb went off at a hotel after Saturday's election wounding eight people.
Nigeria's elections have long been marred by violence and rigging. But voting in the Saturday presidential election was largely peaceful.
Jonathan, who became president after his Muslim predecessor died in office last year, has long been considered the front-runner. His ruling People's Democratic Party has dominated politics in the West African giant since it became a democracy 12 years ago.
However, the country's Muslim north remains cold to Jonathan as the Christian from the south who took over after the death of the country's elected Muslim leader.
Many of the north's elite wanted the ruling party to honor an unwritten power-sharing agreement calling for a Muslim candidate to run in this election, yet Jonathan prevailed in the party's primary.