Feminist anti-Putin punk band facing hooliganism charges says judge biased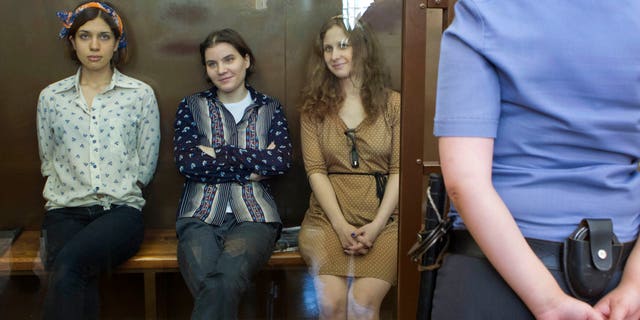 NEWYou can now listen to Fox News articles!
MOSCOW – Members of a feminist Russian punk band on trial for performing a stunt against Vladimir Putin in Moscow's main cathedral sought to dismiss their judge on Monday, accusing her of being politically biased and ignoring their side of the story.
The Pussy Riot members also said they did not mean to hurt anyone's religious feelings when they performed a "punk prayer" in Christ the Saviour cathedral against Putin's return to the Russian presidency.
"We've been made scapegoats," said band member Maria Alekhina.
But the Judge refused to listen to any of the motions of the defense, and the daily 12-hour court sessions on hooliganism charges continued as the trial moved quickly toward completion.
The three women -- Nadezhda Tolokonnikova, 23; Alekhina, 24; and Yekaterina Samutsevich, 29 -- have been in custody for five months following their stunt. The band members, who are facing a seven-year sentence if convicted, have previously complained that they've been deprived of sleep and food.
The Pussy Riot performed its act in February as a protest against Putin's return to the Kremlin and the Russian Orthodox Church's support for him. Their case is part of a widening government crackdown on dissent that followed Putin's election in March and caused strong protests in Russia and abroad.
The trial that started in July has sharply divided Russia. Some believers felt insulted by the act, while top rights groups have declared the women prisoners of conscience.
Last week, leading British musicians joined an international outcry over the band's treatment and called for their release.
On Monday, Madonna, who is on a concert tour of Russia, told the AP that she hopes for a quick release of the band members: "Obviously I believe in freedom of speech and I'm against censorship, so I hope that the judge is lenient with them and that they are freed soon," she said.
Tolokonnikova, dressed in a checkered shirt tucked in skinny jeans, told the court on Monday that Judge Marina Syrova's actions are turning the defendants into "dumb creatures."
"I'm just a body that gets shuttled to the courtroom every day and stays here from 10 to 10," she said in a trembling voice. "My motions don't even get heard."
The band's defense lawyers filed yet another petition to remove the judge that was shortly turned down.
Alekhina insisted on Monday that the band did not mean to hurt anyone's religious feelings, but said that their stunt was aimed at the church's support for Putin.
Alekhina accused the judge of bias. "Your honor ignores defendants as equal parties of the trial," she read out from her notes. "Your honor is politically biased. Your honor does not respect the defendants."
Orthodox leaders have ignored calls by many Orthodox believers to pardon the women and urge the court to dismiss the case.
Jailed Russian tycoon Mikhail Khodorkovsky, whose convictions on tax evasion and embezzlement charges have been widely seen as politically motivated, has come out to support the band.
Khodorkovsky wrote in a message that his lawyers made public on Monday that "it's painful to follow what's happening at the Khamovniki Court in Moscow" -- the same courtroom where he got his second conviction in December 2010. "The word `tried' can be used here only in a sense of medieval inquisition."
Khodorkovsky described the case as "a disgrace of a great country, a country of world-known humanists and scientists, which is quickly turning into a backward Asian province."
The three women are facing daily court hearings for some 12 hours -- unusually long for Russian courts.
Khodorkovsky speculated that the judge may be rushing the trial to get it wrapped up before the end of the London Olympics so that "our disgrace would not sound as loud as it could."