Feidin Santana, who recorded South Carolina police shooting, speaks publicly for 1st time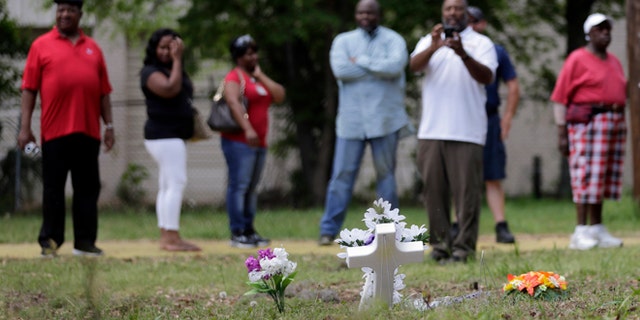 The 23-year old barber who recorded the fatal shooting of an unarmed black man by a white South Carolina police officer last weekend spoke to the media for the first time, saying that while he initially thought of deleting the clip he knew he "had something in my hands."
Feidin Santana was walking to his North Charleston job Saturday morning when he witnessed 50-year old Walter Scott grappling with Officer Michael Slager.
"They were both down before I started recording," Santana said, according to the New York Daily News. "I remember the police officer had control of the situation . . . (Scott) was just trying to get away from the Taser."
Santana remained quiet as Scott attempted to flee from the police officer and captured footage of Slager discharging his service firearm eight times while Scott ran away from him. Scott was struck five times.
"The police officer just shot him . . . I knew right away I had something in my hands," Santana said.
Despite thinking of deleting the video he recorded, Santana said that once the news emerged – including Slager's claim that Scott tried to grabbed his Taser - Santana contacted the victim's attorneys — and family.
"They were very emotional, when that happened, including me also," Santana said about handing over the video. "I thought about his position, their situation and if I would have a family member that happened to, I would like to know the truth."
Santana's video proved pivotal in the filing of a murder charge against Slager, and also rekindled a fervent national discussion about the use of body cameras by police officers.
The White House seized on the case to make a pitch for wider use of such cameras. So did New York Mayor Bill De Blasio, whose city has experienced wrenching controversies related to police use of force.
And in North Charleston, Mayor Keith Summey said Wednesday that every uniformed officer on patrol will get a body camera. The city already had ordered 101 cameras, and is ordering 150 more in the aftermath of the shooting, the mayor said.
It's unclear how quickly they'll be deployed. Summey said officers have to be trained and a policy for the use of the cameras must be written and approved by lawyers.
In many jurisdictions nationwide, there have been complications and disagreements related to details of such policies. In some states, lawmakers have proposed bills to exempt video recordings of police encounters with citizens from state public records laws, or to limit what can be made public.
Paul Butler, a former federal prosecutor who is now a professor of criminal law at Georgetown, said use of a body camera in North Charleston might possibly have spared Scott's life.
"They make both police and civilians treat each other better, because they know they are being recorded," Butler said. "If the police officer knew he was on camera, he may have been deterred from firing his weapon at a fleeing suspect."
Charleston County Sheriff Al Cannon suggested that investigators would have ascertained Slager's culpability without the video, but the images made their job easier.
"Like the family attorney said, once that video came out, things moved quickly," Cannon said.
The swift and forceful response contrasted sharply with how events unfolded after the Rodney King beating and the chokehold death of Eric Garner in New York City last July — two other cases in which videos of the police action emerged.
Based on reporting by The Associated Press.
Like us on Facebook
Follow us on Twitter & Instagram