Fears grow for Michael Schumacher as former F1 champion remains in coma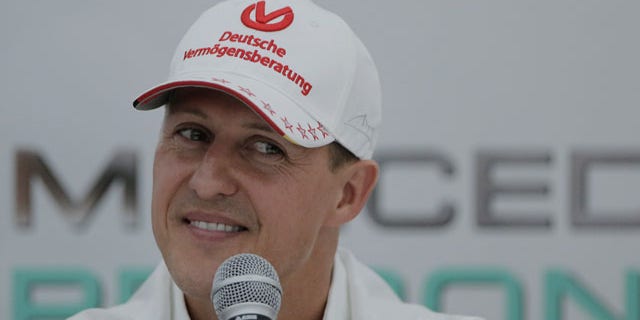 NEWYou can now listen to Fox News articles!
More than three weeks after former Formula 1 champion Michael Schumacher suffered a severe head injury while skiing in France, fears are reportedly growing that the German driver will never make a full recovery.
Schumacher has been kept in a medically induced coma at a hospital in the Alpine town of Grenoble since falling and hitting his head on rocks December 29. Doctors have performed two emergency operations and have pronounced his condition as stable.
However, the Austrian news website Format reports that the seven-time world champion's friends and family are increasingly concerned that Schumacher may be suffering from Apallic syndrome, or a persistent vegetative state. It reports that Schumacher is being "fed there with probes, washed daily and moved again and again to avoid bed sores."
"Every day, every week in a coma the chances decline that the situation is improving," Jean-Marc Orgogozo, professor of neurology at the University of Bordeaux, told Britain's Daily Mirror.
Writing in the same paper, British neurosurgeon Colin Shieff said that it was far too early to make a firm diagnosis of Apallic syndrome, "but it is correct for doctors to warn (Schumacher's) family at this stage."
Schumacher's wife, Corinna, issued a statement on the driver's website Saturday saying "We are deeply touched by all the messages to get well soon for Michael which still are being sent. That gives us strength ... We all know, he is a fighter and will not give up!"