Fearing attacks, Egypt's churches suspend pilgrimages, trips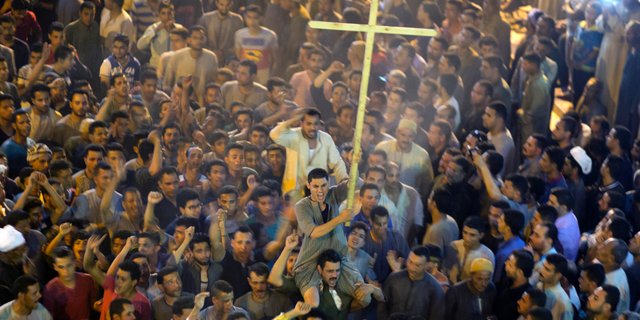 CAIRO – Egyptian churches on Thursday suspended pilgrimages, holidays and conferences for the remainder of July and August after authorities warned them about possible attacks by Islamic militants.
Ishak Ibrahim, an activist and a top researcher on the Egyptian church, reported the suspension by the majority Coptic Orthodox and the smaller Anglican and Catholic churches. Security officials, pastors and other activists confirmed the suspension.
They said the warning was delivered to church representatives during a meeting this week with top army and security commanders in the southern city of Assiut. They have also been told that army troops backed by armored vehicles and snipers would be deployed outside monasteries hosting major religious festivals in coming weeks. At least two of these festivals will take place in Assiut, home to a sizable Christian community.
Security officials confirmed the heightened measures and the warnings conveyed to the churches. They spoke on condition of anonymity because they were not authorized to release the information.
The suspension of activities and the deployment of army troops outside monasteries point to the vulnerability of Egypt's Christians at a time when President Abdel-Fattah el-Sissi's government is struggling to crush an insurgency led by the extremist Islamic State group in northern Sinai. Militants have been waging attacks against security forces there for years, but they have recently expanded to the mainland.
They have vowed to go after Egypt's Christians, who account for about 10 percent of the country's 93 million people, as punishment for their support of el-Sissi, who led the 2013 military ouster of an Islamist president.
The militants have forced scores of Christian families to flee their homes in northern Sinai after killing several of them and have since December killed more than 100 people in four separate attacks targeting members of the ancient community. El-Sissi declared a nationwide state of emergency in April after suicide bombers targeted two churches north of Cairo.
In May, militants killed about 30 Christians traveling on a back road as they approached a remote desert monastery south of Cairo.
Churches across Egypt organize weekend pilgrimages to monasteries and ancient churches. Some of their religious festivals, like the two in Assiut due to begin soon, attract millions. The churches also organize beach holidays for their congregations.
"The church has decided to suspend all trips and conferences at present to give security agencies the chance to carry out their duties without distractions," senior Catholic church official Hany Bakhoum told a Christian online news service on Thursday.
He said the decision to suspend activities was taken on the recommendations contained in a "letter" from security agencies.
Ibrahim, the Christian activist, also said the decision to suspend activities followed instructions from authorities.
The suspension appeared to go into effect immediately.
A letter dated July 13 and signed by an Anglican priest cancels a July 17-21 beach trip to the Red Sea resort of Hurghada for members of his flock, saying the decision was taken "for your safety."
"Let us all unite in prayers for the security and stability of our country," wrote the priest, Mohsen Naeem.