FBI Sends 'Small Team' of Investigators to Stockholm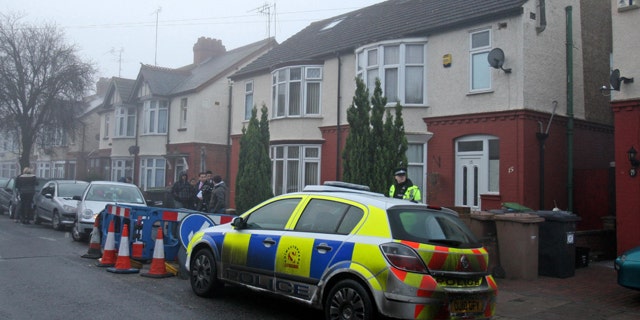 The FBI has sent a "small team of experts" to assist Swedish authorities in the investigation into Saturday's botched suicide bombing in Stockholm, FoxNews.com has learned.
FBI spokesman Richard Kolko said the request by Swedish authorities was made through the U.S. Embassy for assistance in the ongoing probe into suspect Taimour Abdulwahab, a 28-year-old Swedish citizen who had lived in Britain for the past ten years.
"The FBI has sent a small team of experts to assist the Swedish police with their investigation," Kolko wrote in an email to FoxNews.com. He did not elaborate.
Swedish prosecutor Tomas Lindstrand said Monday that authorities are certain the suicide bomber who terrified pre-Christmas shoppers was Abdulwahab, an Iraqi-born Swede who spent much of the past decade in Britain. He said Abdulwahab was completely unknown to Swedish security police before the blasts, which killed the bomber and injured two others.
Authorities are now trying to learn when Abdulwahab was radicalized, whether he had accomplices -- and how a man whose radical views were displayed both online and in person escaped official notice.
Lindstrand said officials would investigate why Abdulwahab was not on their radar, but pointed out "that he didn't live in Sweden, he lived in the U.K., he left Sweden maybe 10 years ago."
Lindstrand also said Swedish security was not "a Stasi organization" engaged in analyzing people's Facebook pages.
A British official who spoke to the Associated Press on condition of anonymity because of the sensitivity of his work would not comment on whether Abdulwahab had been on the radar as a suspected terrorist. But he said all threats stemming from controversial cartoons of the Prophet Muhammad -- cited by Abdulwahab as a motive for the attack -- were being closely investigated.
Lars Vilks, whose 2007 depiction of the Prophet Muhammad has drawn regular threats from extremists, told the AP he was shocked that suicide bombings have come to Sweden.
"It's a little unreal that we have such a case here," he said, adding that police had increased their presence outside his home following the botched attack.
Law enforcement and intelligence agents are now poring over Abdulwahab's Facebook page, along with his profile from a Muslim dating website, for clues to his mindset and movements.
According to information on the dating website muslima.com -- where Abdulwahab posted a profile saying he was looking for a second wife -- he was born in Baghdad and moved to Sweden as a child in 1992. In 2001 he moved to Britain to study at the University of Bedfordshire in Luton, near London. The university confirmed that a student with his name and Swedish nationality graduated with a degree in sports therapy in 2004.
What he did next is not clear, but by late 2006 or early 2007 he began attending the Luton Islamic Center, a local mosque. Its secretary, Farasat Latif, said the newcomer was "very friendly, bubbly -- he was well liked."
But soon Abdulwahab began making extremist statements focused on "suicide bombings, pronouncing Muslim leaders to be disbelievers, denouncing Muslim governments."
Mosque officials confronted him about the statements, but Latif said the radicalism continued.
"One day during morning prayers in the month of Ramadan -- there were about 100 people there -- the chairman of the mosque stood up and exposed him, warning against terrorism, suicide bombings and so on. He knew it was directed at him. He stormed out of the mosque and was never seen again," Latif said.
He said despite Abdulwahab's extreme views "nothing pointed to the fact that he was going to do something stupid."
In an audio message he apparently recorded before the attack -- sent to the Swedish security service and the TT news agency -- he apologized to his family for misleading them, saying, "I never went to the Middle East to work or to make money, I went for jihad."
Authorities are still investigating whether he acted alone or had ties to Al Qaeda or other groups.
On Sunday, the Al Qaeda-affiliated Shumokh al-Islam website posted a message calling Abdulwahab a "brother" and quoting a prayer saying "God let me die as you are satisfied with me."
Lindstrand, the Swedish prosecutor, said it appeared Abdulwahab was alone in executing the blasts, but could have been assisted by someone else in their preparation. He said that despite its apparent failure, the bombing appeared to be well-planned.
The attack has shocked Swedes, who cherish their country's image as an open, tolerant society. But it could have been far worse.
Lindstrand said Abdulwahab had bombs strapped to his body, more in a backpack and also carried "something that looked like a pressure-cooker."
He said parts of the explosives probably detonated early by mistake.
"He was well-equipped with bomb material, so I guess it isn't a too-daring guess to say he was on his way to a place where there were as many people as possible" -- such as a subway station or department store, he said.
Abdulwahab's Facebook profile shows a man interested in both modern technology and radical Islam, whose "likes" included both "the Islamic Caliphate state" and the Apple iPad.
He had posted comments against Shiites, whom Sunni Muslims consider heretics, as well as a link to a video showing a dying man, maybe injured in Chechnya, praying to God to die as a martyr.
By this year, he was back in Luton, living with his wife and three young children in a semidetached house on a quiet street. Police stood guard outside the house Monday following a raid by counter-terrorist officers. Police said they had not found any hazardous materials or made any arrests.
Neighbors said he appeared friendly but reserved.
"This individual didn't have any contact with people," said Massood Akhtar, 58.
The bombings have brought more unwelcome attention to Luton, an English town of 200,000 with a large Muslim population and an unwanted media reputation as an extremist crucible.
There have been several terrorism arrests in the town in recent years. On July 7, 2005, four bombers gathered there before taking a train to London and blowing themselves up on the transit system. Last year, Luton was the site of a small but widely covered protest in which a handful of Islamists picketed a homecoming parade for British soldiers returning from Iraq, holding up signs accusing the men of being "butchers" and "baby-killers."
It also has been targeted for demonstrations by the English Defense League, a far-right group that claims to oppose Islamic extremism, but which is accused by opponents of being racist.
The case will also focus attention once again on whether British universities are doing enough to combat Islamic extremism among students. Umar Farouk Abdulmutallab, who tried to blow up a Detroit-bound airliner with explosives hidden in his underwear, also studied in Britain.
Wherever he was radicalized, Abdulwahab's justification for the Stockholm attack focused largely on Swedish issues.
The audio file sent shortly before the blast from his cell phone referred to Sweden's military presence in Afghanistan and an image by a Swedish artist that depicted the Prophet Muhammad as a dog, enraging many Muslims.
A man's voice on the recording says because of Sweden's silence toward all this, "so will your children, daughters, brothers and sisters die, like our brothers, sister and children die."
The Associated Press contributed to this report.