Massive fire causes explosion at residential building in Paris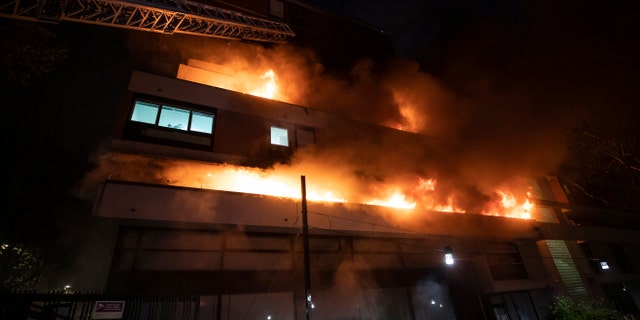 NEWYou can now listen to Fox News articles!
PARIS – A massive fire at a residential building in northeastern Paris caused a terrifying explosion on Saturday evening.
Rescue teams are still searching for potential victims, but it does not appear that anyone was hurt or killed as a result. Firefighters said that it appeared the fire started both inside and outside the modern apartment building in the city's 19th arrondissement, and quickly spread through the third floor to the sixth floor.
Firefighter spokesman Gabriel Plus said that at this point, it is too early to determine what caused the blaze. However, the building does have two elevator shafts, which may explain how the fire spread so quickly through multiple floors. He added that about 27 apartment buildings were damaged by the fire
Video captured from nearby shows the shocking moment the fire resulted in a large explosion, which sent a fireball cascading across the street. The building had already been evacuated at the time of the blast.
'MAJOR' NEW JERSEY FOREST FIRE CLOSES ROADS; SMOKE FROM BLAZE REPORTED IN NEW YORK CITY
WISCONSN APARTMENT BUILDING CATCHES FRE; 'MIRACULOUS' THAT ALL OCCUPANTS ACCOUNTED FOR, OFFICIAL SAYS
Plus added that the building does not have a main gas supply, so it's possible that bottles of gas for barbequeing on the balcony may have led to the explosion.
Paris recorded its deadliest fire in a decade earlier this year, when a blaze in a posh western district killed 10 people in February. Arson was suspected, and a woman living in the building was arrested. It was later revealed that she had recently been released from a psychiatric ward.
The Associated Press contributed to the reporting of this story.