Family feud for grandfather, says Rinehart's son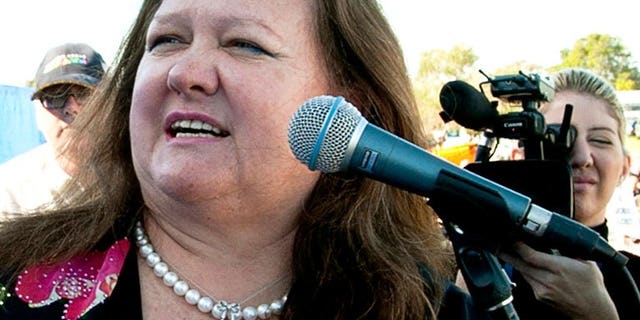 NEWYou can now listen to Fox News articles!
SYDNEY (AFP) – The son of Australia's richest person Gina Rinehart has pledged he "won't give up" on his battle for control of the family fortune because it honours his grandfather's dying wishes, a report said Saturday.
John Hancock, Rinehart's only son and the eldest of her four children, is embroiled in a messy court case against his mother to have her removed as trustee of a multi-billion dollar trust.
In an interview with The Sydney Morning Herald he said he would pursue the case, which pits him and one of his sisters, Bianca Rinehart, against their mother to honour his grandfather, the late Lang Hancock.
"From the start I've said we are doing this to carry out the intentions of my grandfather, and for fairness to everyone," he told the paper.
The protracted row stems from a family trust set up by Lang Hancock in 1988 with his four grandchildren as the beneficiaries.
Gina Rinehart was to run the trust, which holds a 23.4 percent slice of her iron ore company Hancock Prospecting, until the youngest grandchild turned 25 in 2011.
But just days before this date she allegedly sought to delay the payout until 2068, saying it would avoid a huge capital gains tax bill, prompting Hancock and sisters Bianca Rinehart and Hope Rinehart Welker to take court action.
Hope Welker has since pulled out of the legal battle, but not before documents submitted to the court exposed the bitter battle within the family headed by Gina, whose fortune was estimated earlier this year by Forbes at US$17 billion.
John Hancock has also reportedly obtained a ruling from the Australian tax office which says there would have been no capital gains tax had the trust switched to the children's control in 2011.
Hancock said he last spoke to his grandfather, who was then 82 and battling various illnesses, the day before he died in 1992 and the conversation had always stayed with him.
"He took my hand and said, 'You've got to be strong as you will need to run everything one day,'" Hancock told the paper.
"We want to see our grandfather's wishes honoured," the 37-year-old added.
"He did not want Gina to have everything or for her to dictate our lives."
The case is set to return to court on October 1.
"I won't give up," Hancock said. "My hope is my mother is just doing this to apply the blowtorch and see what my melting point is."