Families hold memorial service to Taiwan quake victims as death toll rises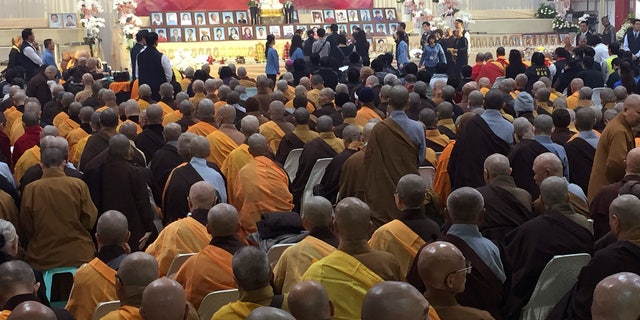 NEWYou can now listen to Fox News articles!
TAINAN, Taiwan – Taiwanese leaders and relatives held a memorial service on Friday for victims of last weekend's earthquake as the official death toll rose to 94.
President Ma Ying-jeou and president-elect Tsai Ing-wen attended the ceremony, offering flowers and shaking hands with relatives and Buddhist monks before leaving without making any public remarks. Family members lit incense and bowed before the victims' photographs, arranged in rows.
Friday marks the seventh day since the earthquake and a day of special mourning, according to traditional Chinese funeral rituals.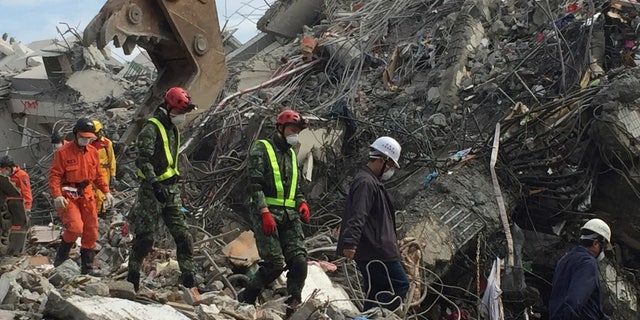 The death toll rose to 94 early Friday, according to Taiwan's Interior Ministry, with as many as 41 people are still missing and presumed trapped under the rubble.
All but two of the dead were residents at the Weiguan Golden Dragon apartment complex, the only building to collapse during the tremors that struck Tainan, Taiwan's oldest city.
Authorities detained the building's developer Lin Ming-hui and two architects this week on suspicion of negligent homicide amid accusations his firm cut corners during the building's construction.
Tainan city officials say they will inspect several dozen other developments built by Lin, as well as other buildings in the Weiguan compound that did not collapse.