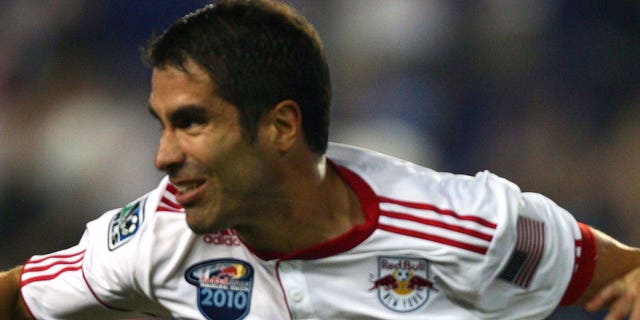 Just before Juan Pablo Angel joined the New York Red Bulls from Aston Villa in England in 2007, a journalist from Birmingham, England emailed me and said that the Major League Soccer side was getting a special player and man -- on and off the field.
How spot on he was.
During his four years with the Red Bulls, Angel has been a class act and then some.
He has been a leader in the locker room, where teammates have looked up to him and asked for advice.
As team captain, he is the spokesman for the team, especially during those desperate days in the utterly forgettable 2009 season in which the Red Bulls became the MLS poster boys for a losing side. Yet, the former Colombian international refused to criticize his teammates and he had every right to, especially when he has been asked about teammates' inability to get him the ball consistently.
Angel's exploits off the field are better known by soccer fans.
Angel became the gold standard of MLS designated players, playing and producing at a high level. Entering the Red Bulls' home game against defending champion Real Salt Lake Saturday, Angel has scored 58 in 98 league matches, a superb 58.6 percent strike rate.
Of course, it never has been about Angel. It has always been about the team.
Perhaps until now, because his future is at stake.
The Red Bulls have a new management and new vision.
General manager Erik Soler and coach Hans Backe have rebuilt the team into a side that has legitimate aspirations of winning MLS Cup. They have added high-profile international players such as French striker Thierry Henry and Mexican captain and midfielder Rafa Márquez, and they don't come cheap (they earn in the neighborhood of $5.4 million a year).
When a new coach and general manager take over the reins, they like to bring in their own players. It happens with every club in the world.
And like it or not, father time catches up to us all. For athletes, particularly soccer players, it can come much sooner than later. For strikers, a half step lost can be devastating, even though Angel probably never wins many races to begin with; he is more of a classic target striker.
Angel turns 35 on Oct. 24 and that age is considered ancient for a striker, even in MLS.
There are indications -- strong indications -- that this season could be his last. For the first time in his Red Bulls career, a healthy Angel started a league match on the bench in the team's match at FC Dallas on Sept. 16. He eventually saw some action in the second half helped the Red Bulls to a 2-2 draw.
After the Red Bulls polished off Western Conference leader Los Angeles Galaxy on Sept. 24, Angel sounded like he was resigned to looking for employment elsewhere. "I have enjoyed my time here tremendously," he said. "With the players we have, this is the best squad. Whatever happens, I will wish the team well and move on."
The funny thing is, Angel still is productive. He has 13 goals, tied for second place in the league with FC Toronto's Dwayne DeRosario, 32, and Philadelphia Union's Sebastian LeToux, 26, behind leader and Los Angeles Galaxy striker Edson Buddle, 29, who has 16 goals through the games of Thursday, Oct. 7.
Not too bad for an "old man" and for someone who did not have much of a creative midfield behind for most of the season, huh?
So, there is still some gas left in the tank.
But where will Angel burn that gas in 2011?
If the Red Bulls do want him to return, it most likely will be considerably less than the $1,918,000 they are paying him for this year, according to the MLS Players Union.
If not, perhaps there is another MLS club willing to spend some money on an aging striker who has proven time and again he can find the back of the net. There probably are plenty of opportunities in South America, but it is not known whether Angel will want to play there.
If this is the end to Angel's Red Bulls or MLS career, then the club and league will be saying goodbye to a class act, no matter what side of the Atlantic Ocean he plays.
Michael Lewis has covered domestic and international soccer for more than three decades. He can be reached at soccerwriter516@aol.com.