FAA lifts flight restrictions on Tel Aviv airport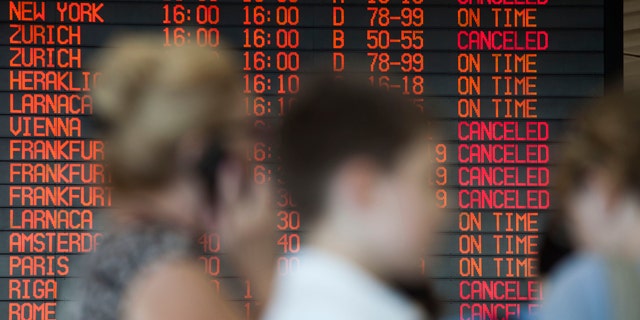 The Federal Aviation Administration announced late Wednesday that it had lifted the restriction prohibiting U.S. airlines from flying into and out of Israel's main airport in Tel Aviv.
In a statement, the FAA said that the Notice to Airmen restricting flights into Ben Gurion Airport officially expired at 11:45 p.m. Eastern Time Wednesday. The agency had instituted the prohibition shortly after noon Eastern Time Tuesday in response to a report that a rocket fired by Hamas had landed less than a mile from the airport. The restriction was renewed earlier Wednesday.
"Before making this decision, the FAA worked with its U.S. government counterparts to assess the security situation in Israel and carefully reviewed both significant new information and measures the Government of Israel is taking to mitigate potential risks to civil aviation," the agency said in its statement.
"The FAA's primary mission and interest are the protection of people traveling on U.S. airlines. The agency will continue to closely monitor the very fluid situation around Ben Gurion Airport and will take additional actions, as necessary."
The directive applies only to U.S. carriers. The FAA has no authority over foreign airlines operating in Israel.
The initial restriction was criticized by Israel's Transport Ministry as an overreaction. Former New York City mayor Michael Bloomberg flew to Tel Aviv from New York on board an El Al flight late Tuesday in an effort to prove that the airport was safe for air travel.
On Wednesday, Sen. Ted Cruz, R-Texas, questioned whether President Barack Obama had used the agency to impose an economic boycott on Israel.
Cruz's remarks drew a sharp response from State Department spokeswoman Marie Harf said the senator was "completely wrong on this."
The CEO of Delta Air Lines, which diverted a jumbo jet away from Tel Aviv before Tuesday's ban, said earlier Wednesday the airline would not necessarily resume flights to Israel even if U.S. authorities declare the area safe.
Richard Anderson said that Delta would obey FAA orders, but would also continue to make its own decisions about safety.
"We appreciate the advice and consent and the intelligence we get, but we have a duty and an obligation above and beyond that to independently make the right decisions for our employees and passengers," Anderson said on a conference call with reporters. "Even if they lift" the prohibition on flying in and out of Ben Gurion Airport, "we still may not go in depending on what the facts and circumstances are."
Anderson declined to discuss specifically how the airline would make the decision to resume the flights and spoke only in general terms. He said the airline decides whether flights are safe to operate "on an independent basis, so we will evaluate the information we have and we will make the judgment that our passengers and employees rely on us to make for them every day."
The CEO of Middle East carrier Emirates said after the shoot-down in Ukraine of a Malaysia Airlines jet last week that global airlines need better risk-assessment from international aviation authorities. Delta, however, seems more inclined to go it alone.
"We have a broad and deep security network around the world," Anderson said. "We have security directors that work for Delta in all the regions of the world, and we have a very sophisticated capability and methodology to manage these kinds of risks, whether it's this or a volcano or a hurricane."
The Associated Press contributed to this report.