'Extremely dangerous' Hurricane Nicole lashes Bermuda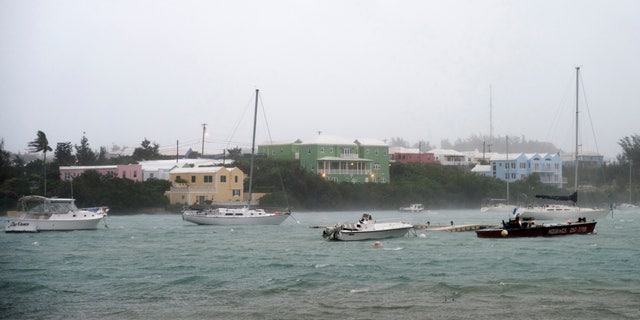 HAMILTON, Bermuda – Hurricane Nicole roared across Bermuda on Thursday, pummeling the resort island with winds up to 115 mph that snapped trees and peeled off roofs.
The Category 3 storm also flooded homes and knocked out power to more than 26,000 customers who live in the British territory, which has sturdy infrastructure and is accustomed to heavy weather.
As the eye of the hurricane passed overhead, Bermuda's 65,000 people got a brief respite, but authorities urged everyone to stay inside.
"This is a serious storm, and it's living up to the weather predictions," National Security Minister Jeff Baron said. "The worst is not over."
After the eye moved away, the wind picked up with so much force that it flung open a hatch on Bermuda Weather Service's radar, rendering it useless until the hatch could be shut, forecasters said.
Nick West, who lives with his family near a wharf in the town of St. George, said a large portion of his roof was ripped off just before the eye passed. His garden is now underwater.
"We are hiding downstairs. All safe and dry for now," he said. "Just as long as we are all safe, that is all I really care about."
By early Thursday afternoon, the storm was about 90 miles (145 kilometers) northeast of Bermuda. It had maximum sustained winds of 115 mph (185 kph) and was moving northeast at 18 mph (30 kph).
Late Wednesday, the hurricane had strengthened to a Category 4 storm, but it lost steam overnight. Forecasters warned that it was still dangerous.
"While hurricanes often affect Bermuda, a hurricane this strong is rare," the National Hurricane Center said.
Some 120 guests were ushered for safety into a ballroom at the Hamilton Princess & Beach Club, one of the island's largest hotels. They were served a free lunch as they waited for the hurricane to blow through.
Chinna Francois, who helps run one of the hotel's restaurants, said she had weathered many hurricanes in Bermuda but cautioned people not to get complacent as the eye crossed the island.
"The last half of the hurricane is the dangerous part," she said.
Forecasters said hurricane-force winds would continue late into Thursday night.
On Wednesday, schools and government offices were ordered closed, and businesses were boarded up.
"I'm comfortable with the resources we have in hand to deal with this storm," Premier Michael Dunkley said. "I have every faith that the people of Bermuda will rally together after the storm."
American Airlines, Air Canada and other carriers canceled flights to the island. Several cruise ships also called off trips.